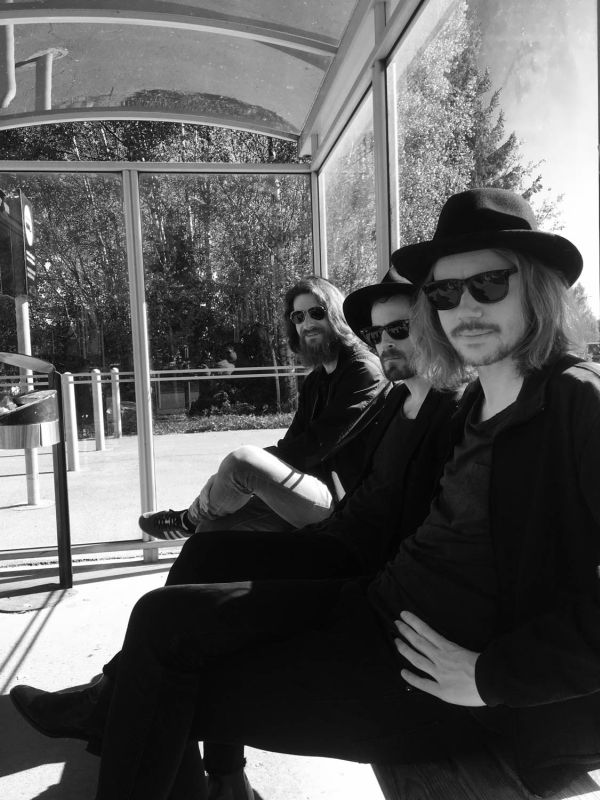 21 January 2020
Mayflower Madame – Photo Credit: Sven Santelmann
It's not every day (or even month) that we feature music from Norway. But today we have that pleasure with the premiere of the new 'Vultures' single from Oslo-based psychedelic post-punk fusion connoisseurs Mayflower Madame.
The trio has signed to French label Only Lovers Records and are gearing up to present us what will surely be a bonanza of rich and lush, yet looming, track from their sophomore album.
Expressing an identify all their own, these Scandinavians thrive with a branded sound, solid attitude, and their new single is haunting, like the foreboding sense of the voodoo rattle.
Hailing from Oslo, Norway, Mayflower Madame is Trond Fagernes (vocals, guitars, bass), Håvard Haga (guitars), and Ola J. Kyrkjeeide (drums).
"Vultures' was one of the first songs we wrote for the new album. We instantly liked the combination of the insistent, driving beat with the swirling, hypnotic guitars. It was all done rather quickly, piece by piece just seemed to fall into place naturally. The song shows our roots in post-punk and psychedelia, while also bringing in something new compared to our previous stuff," says Trond Fagernes.
"Lyrically, 'Vultures' is about desire, gluttony and vanity – both on a personal level and as a general symptom of the excesses of modern society. However, there's a sense of both doom and revival in there. It's partly inspired by the art of George Grosz and Hieronymus Bosch."
The Prepared for a Nightmare album will be released in late March via French label Only Lovers Records, in collaboration with Portland's Little Cloud Records and Icy Cold Records. This track ought to appeal to fans of The Soft Moon, Joy Division, Jesus & Mary Chain, The Black Angels and Black Rebel Motorcycle Club.
Mayflower Madame formed in 2011, at first rehearsing in a desolate industrial building where they shared space with a carwash company. Their hazy, smoke-laden sound was conceived naturally amidst these gritty surroundings. The band soon recorded a four-track demo. leading them to be named 'Unsigned Band of the Week' on one of Norway's biggest radio stations.
After a few years of playing shows across Scandinavia, carefully honing their sound along the way, Mayflower Madame finally released their debut album Observed in a Dream in 2016. Through eight tracks of theatrical psych-gaze exploration and dark romanticism, the album conveyed the wintry feeling of their home country – icy and gloomy, haunting and majestic.
Tours in North America and Europe followed, followed by the Premonition EP in 2018, a 4-track collection of apocalyptic love songs, and more touring and festival circuit in France, Germany, UK and Eastern Europe between recording sessions for their second LP.
Mayflower Madame has shared the stage with bands like Killing Joke, Moon Duo, Night Beats, Psychic Ills, Froth, The Underground Youth, Crocodiles, Cosmonauts and La Femme.
Their much-anticipated second album Prepared For A Nightmare sees the band delving even deeper into their own distinctive blend of psych-noir and post-punk with elements of shoegaze and noise-rock.
As of February 4, 'Vultures' will be available across digital platforms, including iTunes and Spotify. Prepared for a Nightmare will be released on March 27.
CREDITS
Trond Fagernes – vocals, guitars, bass
Håvard Haga – guitars
Ola J. Kyrkjeeide – drums
Kenneth Eknes – synth on all tracks except 2, 6 & 7
Petter G. Marberg – bass on track 1 & 10
Songs written by Trond Fagernes
Recorded by Trond Fagernes & Ola J. Kyrkjeeide at MaMa Studio, Oslo
Mixed by Bob de Wit (track 1, 5, 6 & 7), James Aparicio (track 2, 3 & 4) and James Trevascus (track 8, 9 & 10)
Mastered by Rafael Anton Irisarri at Black Knoll Studio, New York
Also enjoy their video for 'Weightless' and 'Before I Fall', both from their debut LP
MAYFLOWER MADAME
Facebook
Instagram
Bandcamp
YouTube
SoundCloud
Spotify
ONLY LOVERS RECORDS
Website
Facebook
Twitter
Instagram
YouTube