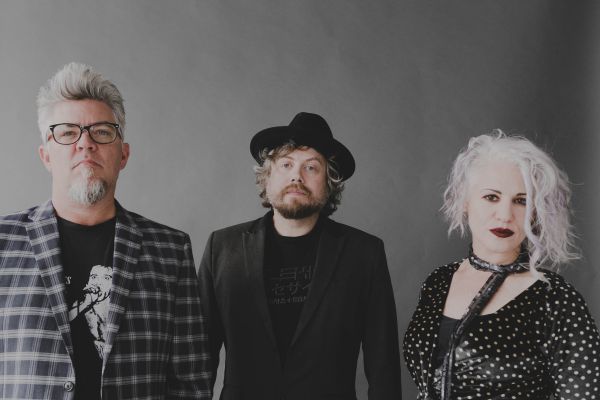 27 February 2019
Paper Cameras – Photo courtesy of Paper Cameras
The Big Takeover is pleased to host the premiere of "We Hear Your Name", the third single off the Painted Light EP from Paper Cameras. The EP will drop March 8th via No Night Travel Records. "We Hear Your Name" is a melodic soundscape reminiscent of '90s garage rock with a powerful modern and ethereal flair.
Paper Cameras are the culmination of years of experience and raw talent, brought together to form a sort of Portland, OR indie music supergroup. Their tuneful lo-fi sound can be has been compared to that of the New Pornographers or Summer Cannibals, but with a freshness and crispness we haven't seen in a long time.
In 2005, Nashville-born, Portland-based musician Michael Carothers (Spectator Pump, All The Dead Horses, The Glib) put his years in the industry to test and began writing songs for the new power pop project which he had envisioned and named Paper Cameras. Three years later, the EP Lost Weekend was born. The EP was recorded with Nashville's Jerry Wayne Campbell (Spider Virus, Millionaire Magicians) and producer Sean Flora (Black Keys, Shins, Stephen Malkmus). Between Lost Weekend and today, a lot has happened for the group.
After a three-year hiatus where Carothers opened a Japanese pub in Portland, the new band lineup formed with longtime friend and local favorite, Nathan Junior, who throughout the years has played with the likes of The Dandy Warhols, The Early Stuff, M. Ward, Duover, and Sea Wolf, to name a few. Carothers, a Tennessee local, flew out fellow Tennessean, Trip Lampkins of the '90s Nashville legends The Grifters out to Portland to record their upcoming Painted Light EP at Jackpot Studios.
The final addition to the group was Portland artist and musician Michelle Anne Muldrow. Her ethereal voice brought the vocals of Painted Light together with a diverse group of songs, some sung by Nathan Junior, some by Muldrow, and a few canorous harmonies to bring it all together.
The result is something truly unique; the fusion of these four musicians from different backgrounds and scenes came together and created a distinctive sound: lyrical, melodious, and with a whole lot of power. It will be exciting to see what the rest of the Painted Light EP holds. Paper Cameras are already back in the studio working on their next record.
Carothers had this to say about "We Hear Your Name": "This song started off as a political song and I'm not a fan of political songs, they tend to become dated. Then it turned into a children's song. Now it's a song being in the middle of your life, and how surreal passions of any kind often are."
Painted Light drops March 8th on all digital platforms on No Night Travel Records.
Bandcamp
SoundCloud
Spotify
Instagram
comments powered by