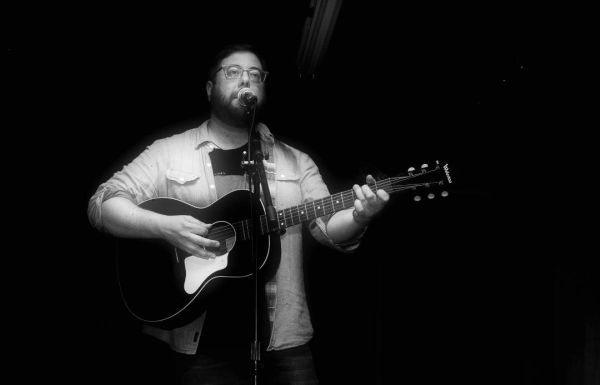 6 October 2020
James Houlahan – Photo Credit: Ronan Chris Murphy
"It's more efficient to be without pain" — for years, this mysterious line was floating around inside James Houlahan's head. It wasn't a voice that the L.A.-based indie-folk artist immediately recognized as his own. Still, it intrigued him. "It was something I could almost hear Bonnie 'Prince' Billy sing," Houlahan says. "It was much more snarky and tongue-in-cheek than anything I'd written before."
Eventually, the moment struck and from these words a fully formed song materialized. "What Is Our Love" is the lead single from Houlahan's new record Ordinary Eye, set to release on November. 20th.
Big Takeover is pleased to host the premiere of "What Is Our Love," which delivers its sly, sarcastic comedy in the most disarmingly earnest musical packaging.
Houlahan's pastoral acoustic strumming; the arrestingly musical drumming of Danny Frankel (Lou Reed, Fiona Apple); a hypnotic bass part from producer Fernando Perdomo (Jakob Dylan, Echo in the Canyon); vibrant, dreamy brushstrokes of fiddle from Scarlet Rivera of Bob Dylan's legendary Rolling Thunder Revue — all the elements play off each other like a simpatico ensemble cast.
As the track meanders like a Sierra Nevada stream into its second verse, Houlahan pokes fun at tech-and-gadget-obsessed contemporary culture: "It's not productive to wander alone / Into the forest without your smartphone / Or fly a kite into a drone / There's room for moss on every stone."
"Why do we always feel like we have to be productive?" Houlahan asks. "Are we really just machines for efficiency? I often think about how our everyday language is riven with economic speak. The way we talk about 'spending your time,' the 'worth' of something or the way we use the words 'value' or 'productivity.' All of these things are tied to economics in this abstract way. Politicians say 'the economy is doing well'—meanwhile millions of people are poor and hungry. What is the economy if it isn't people? There are these weird abstractions in our language, and because of the vocabulary we have, we're sort of disembodied when we speak."
"What Is Our Love" isn't all heady, removed snark, though. If it was, Houlahan confesses, he might not have been able to listen to it again. The song's whisper-sung breakdown of a third verse shifts starkly from the philosophical to the personal, asking, "What did I do to deserve such beauty? / How could I resist such a lovely hand? / You got me feeling this will all blow over / A heart-wrecked sailor brought to land."
"I'm in a great relationship now, and we're getting married," Houlahan explains. "So that last verse is a little light breaking through at the end of the tunnel. Like, 'There's a way out of this.' It might seem at first like I'm saying the best we can do is to not go crazy, but there are higher levels here. Rescue is possible."
Album Pre-Order
Website
Facebook
Instagram
Twitter