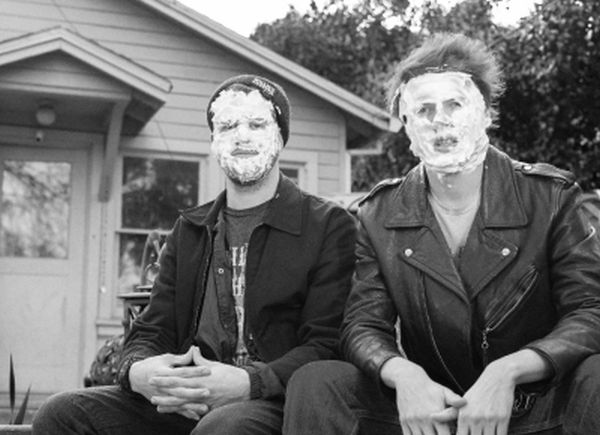 22 July 2019
Beehive – Photo courtesy of Beehive
Beehive is a sharp new duo from Northern California made up of members of previous bands (Terry Malts, Shutups). They're set to release their debut record, Depressed + Distressed, on August 23rd via Jester Records.
They only formed at the start of this year, but Jake Sprecher (guitar, vocals, drum machine) and Bud Armienti (bass) have a load of musical history, with Sprecher playing in San Francisco's Terry Malts, L.A.'s Smokescreens and Business of Dreams and Armienti playing in Oakland's Shutups.
The two have now combined forces as a lo-fi and wiry punk band who write short, deceptively simple rock songs in the vein of early Wire, Suicide, The Spits, and Television Personalities. Each song seems laser focused on a desperately repeated vocal phrase and repeatedly hammered riff splayed out over the emotional indifference of a Hammond Auto-Vari 64 drum machine.
The Big Takeover is stoked to host the premiere of the monolithic and urgent lead single "When Can I See You Again?". Sprecher urgently yelps and howls desperately like a man condemned, while Amenti keeps the speed up and the sound heavy. The track seethes with an obsession we've all experienced at some point, with the guitars clattering and clawing, perhaps trying in vain to stop the incessant drum machine.
The 7-song Depressed + Distressed was recorded live in the studio in one take to 1/2" tape with no messing around. It will be available as a 10" EP and download, and Beehive are planning a West Coast tour in August and a full U.S. tour after that.
Pre-Order Depressed + Distressed