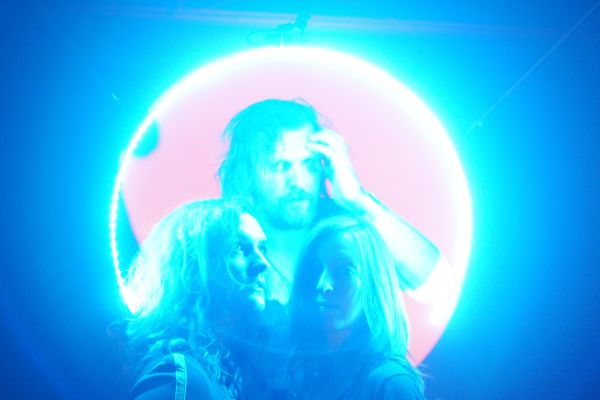 13 November 2019
Twin Limb – Photo Credit: W.G. Rickel
Atmospheric indie/dream-pop trio Twin Limb may be based in Louisville, Kentucky, but many times they infuse their earthy sound with an otherworldly ambience of sweeping guitars and ethereal harmonies. The band are set to release their third album, the deeply personal In the Warm Light, As a Ghost very soon.
Lacey Guthrie (accordion, keyboards, vocals), Maryliz Bender (drums, guitar, vocals), and Kevin Ratterman (sonic sorcery with buttons and pedals, guitar) have all experienced and prevailed through so much, separately and together. Their paths crossed at important intersections of each others' lives at just the right time.
Their upcoming LP is a nearly literal chronicle of a very transformative and emotional period in their lives, although they had no idea what they were creating while in the midst of the process. In hindsight, the songs on the album seem to follow the course of intense change and all it entails: from pain to elation…sadness, triumph, and everything in between.
Regardless of any circumstance, courage and fierce love are prevalent themes in their lives, relationships, and the music they create.
The Big Takeover is pleased to host the premiere of "White Tongues," a restless and potent track off the album. Sweeping strings and an emphatic drum beat kick it off, while a buzzing noise brews below the surface. Hard guitar reverberations shake things up even more,
Amid the sonic turmoil, Guthrie and Bender's sweet and layered vocals add a sky-bound lightness. The song opens up mid-way with a staccato rhythmic pace, before swirling back into a vivid miasma held together by the drum punctuation and the coolly on-fire vocals.
The band go over some details about the song, explaining, ""White Tongues" is a collage of feelings and stories. The theme that connects each lyrical section is the importance of maintaining self-awareness, keeping an eye on your perspective and biases, and how mystical practicing those things can be. The loop playing throughout the song was created by Kevin using a string sample from Jimmy Scott's "Sometimes I Feel Like a Motherless Child"."
Website
Facebook
Twitter
Instagram