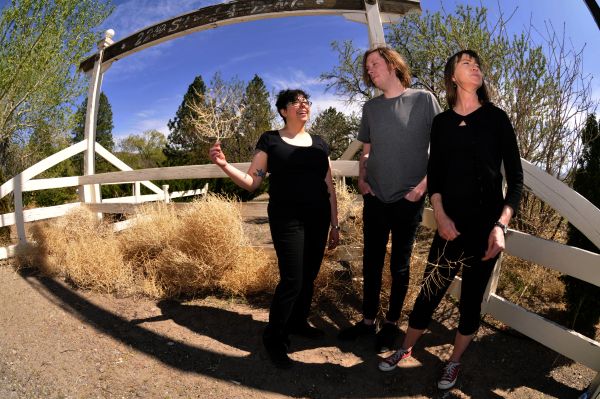 8 July 2019
BLUNDERBUSST (L-R): Jen Scaffidi, Carson Cessna, Carolyn Gates – Photo Credit: Chris Carnel
Shoegaze/noise pop trio BLUNDERBUSST hails from Reno, Nevada and they have a long history in the music realm. They've been on hiatus for five years, but now return with a double 7" single of six songs on August 9th. Titled Monarch of the Mountain, the double 7" is full of dreamy and vibrant sonics and will alight via San Antonio's Slow Start Records.
Ahead of the release, The Big Takeover is mighty pleased to host the premiere of the ruminative, burgeoning, but airy track "Wicked". Like a butterfly emerging from its cocoon, this song slowly opens up with floating synths expansion, winding guitar lines, a pronounced drum beat, and rich, bittersweet vocals from BLUNDERBUSST songwriter and vocalist Jen Scaffidi.
"'Wicked' pre-dates the band and has seen several arrangements," says Scaffidi. "One of the reasons we came out of hiatus and went into the studio is because we liked the most recent arrangement of this song with [guitarist] Carson Cessna so much. Our producer, Colin Christian, really captured the things that Carson does best on this track, in the phrase: "Conjuring Ennio Morricone's darkest desert mescaline trip."
The 15-year career of BLUNDERBUSST has included more time off than on. The group sticks to an edict of not only letting the songs be what they want, but also when they want. Essentially, BLUNDERBUSST makes music when the time is right, and that time has arrived again.
TOUR DATES
07/13/2019: Reno, NV at Foxy Olive
07/24/2019: Boise, ID at The Olympic (Jen Scaffidi solo)
07/25/2019: Ashland, OR at Johnny B's (Jen Scaffidi solo)
07/26/2019: Seattle, WA at Tim's Tavern (Jen Scaffidi solo)
07/28/2019: Red Bluff, CA at Downtown Ale House (Jen Scaffidi solo)
07/29/2019: Reno, NV at Recycled Records
08/02/2019: Los Angeles, CA at Cinema Bar
08/03/2019: Oakland, CA at Octopus Literary Salon
08/09/2019: Reno, NV at Park Place
08/16/2019: Sacramento, CA at Cafe Colonial (Jen Scaffidi solo)
08/17/2019: Virginia City, NV at Canvas Cafe (Jen Scaffidi solo)
09/05/2019: San Francisco, CA at El Rio
09/14/2019: Salem, OR at Space Concert Club
Website
Facebook
Twitter
Instagram
Slow Start Records Website