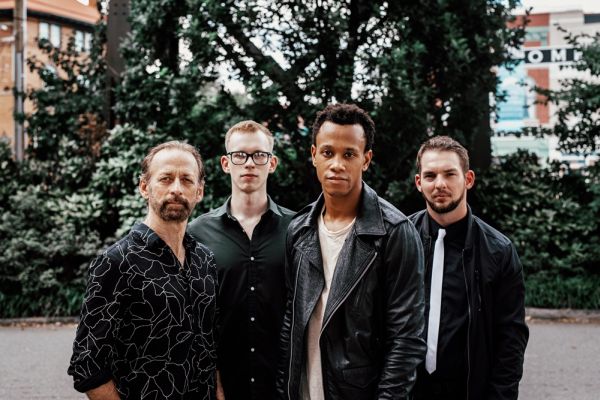 31 October 2018
The J.O.B. – Photo Credit: Joey Wharton
Fueled by the sheer power of human connection, The J.O.B. is a band from Richmond, Virginia that is on a mission: to touch the lives of everyday people with their music. The band's founders, Jim O'Ferrell and Jason Crawford, originally met in 2007 in between O'Ferrell's deployments from the war in Iraq while searching for a lead guitar to play his music. Without hesitation, Crawford knew this was something he wanted to be a part of.
A year later, O'Ferrell was back from the war for good. With a new reality and perspective that only a soldier can have, he had a list of experiences just waiting to be turned into something more, and that's when The J.O.B. took off.
The two-piece band began looking for other musicians to fill in the spaces. Drummer Eric Bandy joined the band in 2014 and in 2016, The J.O.B. discovered bassist and backing vocalist Jared Merrill.
The love of music and performing is the catalyst that connected four people from four entirely different walks of life. Many of the songs are inspired by the humble nature of the human heart, the souls of people O'Ferrell has met throughout life, and of the things he has seen in his time fighting for our country in the Army.
The J.O.B. are storytellers, taking authentic human experiences and reflecting them like a mirror onto their audience. Giving a voice to those that may have buried their own somewhere deep inside, their music is a true companion that makes people's emotions relevant and meaningful.
Their music portfolio includes five albums, three nationally charted songs, and scores of live performances ranging from small saloons to huge festivals.
The J.O.B.'s newest album, Highway of Shadows, produced by Rich Stine (The Head & the Heart), comes out November 9th.
The Big Takeover is pleased to offer "Witching Well" as a Halloween premiere treat. It's a stompin', soulful number "Witching Well." True to their self-described alt-rock with a blues soul and Americana roots, the band stirs these genres into one potent and tuneful brew.
Jim O'Ferrell reveals, "'Witching Well' was inspired from my transformative romance with a former New Orleans dance hall headliner who owned the boarding house where I roomed one summer. I was a young twenty-something soldier on a temporary assignment, a wide-eyed stranger far from home. She was on the forty side of fifty, youthful and beautiful. A practitioner of Cajun mysticism, charms and spells, crystals and potions. Boundaries were erased and lessons learned, both tender and wicked. As autumn arrived, my residency in the boarding house ended. The military presented me with new orders. I saluted, packed my bags, and moved on, a more earthly, temporal man than before. I never heard from my lovely Cajun dancer again. I remember nothing else of that summer, only her."
Website
Facebook
Twitter
Instagram
YouTube
Bandcamp
Spotify
SoundCloud
comments powered by