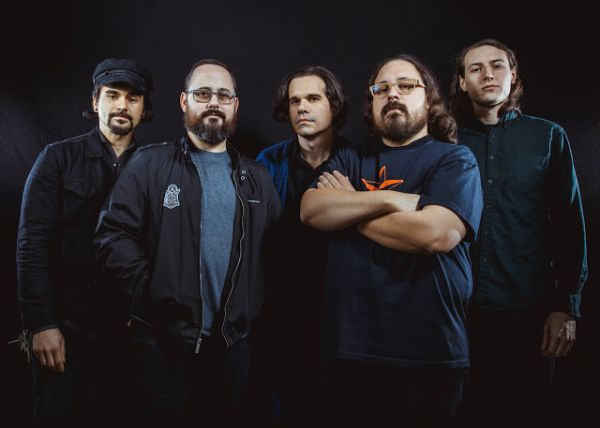 22 March 2019
Something Is Waiting – Photo Credit: John Mourlas
The members of Chicago's Something Is Waiting may not look like an old-school hybrid sleaze rock/metal band, but by gawd do these guys have the vocal and instrumental chops to drop it like it's 1989, when MTV seemed to be the most powerful force in the entertainment industry and Guns 'n' Roses/Axl Rose was considered dangerous and incendiary.
Something Is Waiting (Their band name is a perfect horror movie title yet to be filmed!) are set to unleash their earth-shaking, lightning-strike rock 'n' roll on upcoming second album, Songs for the Sally Beauty Pavilion,. The LP, which follows up 2017 debut The Something Is Waiting Band, will release on March 29th via Learning Curve Records.
The five-piece come out with guns blazing on Songs for the Sally Beauty Pavilion – think noise rock meets Sunset Strip, like Unsane covering Motley Crue or Axl fronting The Jesus Lizard. This is urban scum-rock clutching at a fantasy of L.A. sleaze.
Like frontman Eddie Gobbo's previous band, Jar'd Loose, Something Is Waiting stands way out from its peers. Most "extreme" bands actually play it quite safe, adhering to strains of extremity that are already deemed to be cool and acceptable. Something Is Waiting waves ten middle fingers at all such safety, opting instead to make the weirdest, most hard-rocking album of the year.
Songs for the Sally Beauty Pavilion was recorded and mixed by Something Is Waiting guitarist Pete Grossmann at his own Bricktop Recording (Weekend Nachos, Like Rats) in Chicago, and mastered by Maor Appelbaum (Faith No More, Today Is The Day).
The Big Takeover is mighty stoked to host the premiere of the menacingly exhilarating and PO'd salvo "Your Vintage Nu Rock Band", which aggressively stomps forth with a lurching-Frankenstein tempo, gigantically jagged guitar riffs,heavily pounded drum beat, and Gobbo's killer exclamations that he roars out with a caustic sneer.
Like all of Gobbo's song lyrics, "Your Vintage Nu Rock Band" digs deep into the pop culture trash bin and shines the crap into a radiantly ironic and spot-on diamond. So prepare to grin like an idiot and add Something Is Waiting to your new favorite nu (with an umlaut, of course) vintage sleaze rock band!
Pre-order Songs for the Sally Beauty Pavilion (vinyl, CD, digital), at Learning Curve Records