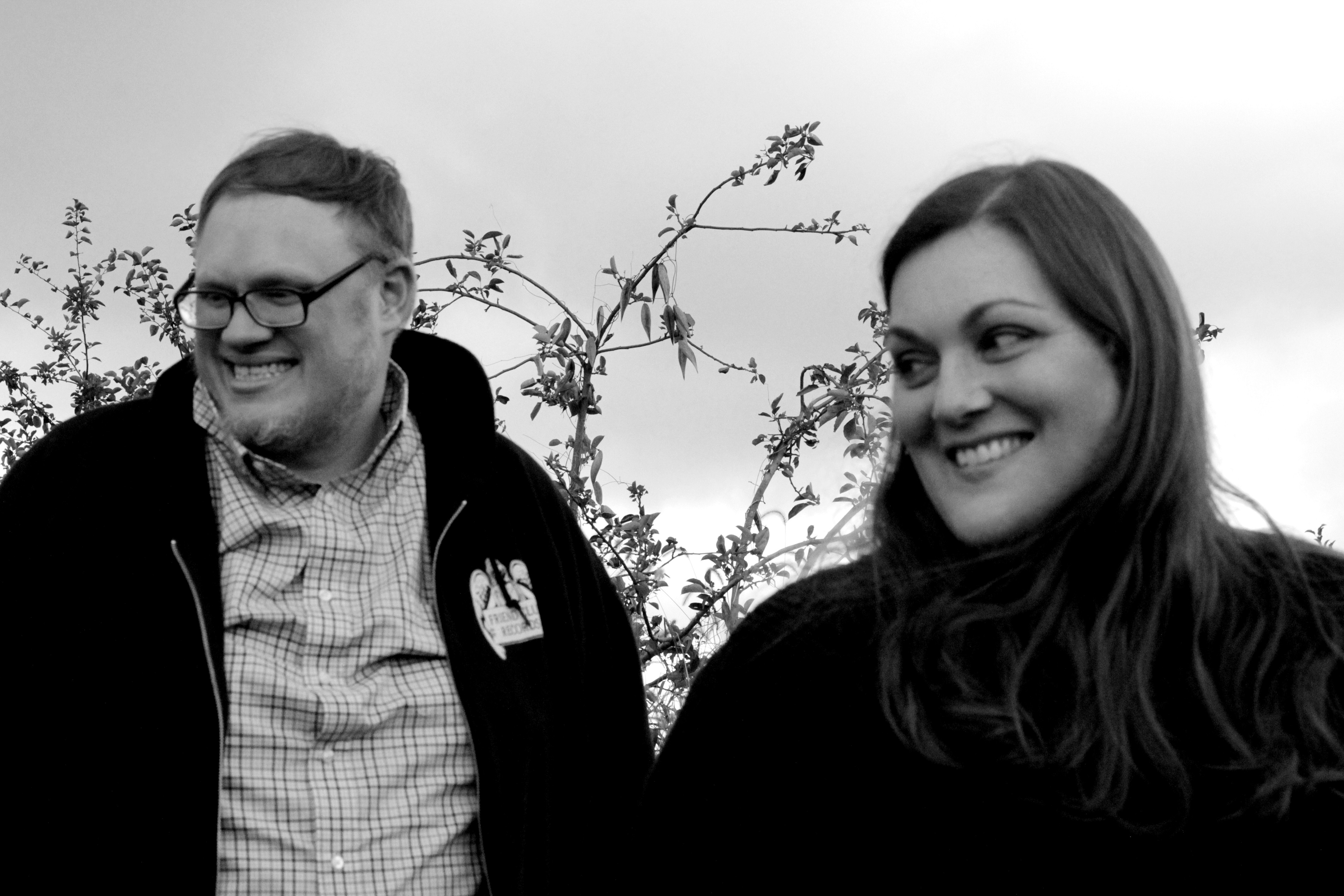 5 May 2022
On their new album The Things We Get Wrong, the Cincinnati-based, husband-and-wife duo dive deep into the reflection they see in the mirror, swimming across the landscape of college, friendships, faith, marriage and parenting to reach a new kind of clarity. Here, The Bell and The Hammer encourage a reshaping and the forming of a tender, empathetic lens that allows us to amplify and celebrate the shaky steps we've taken along the way.
Daniel and Serenity first met in college when they were both part of a traveling choir. Daniel grew up on Amy Grant, Phil Collins and Weird Al, while Serenity grew up on gospel music and later fell in love with the pop perfection of Britney Spears, n*SYNC and The Bee Gees during her teenage years. As they began to find their voices both inside and outside of the choir, they soon found each other as partners and creative collaborators.
Serenity had been writing essays, short poems and lyrics that allowed her to process the stages in her life, and along with Daniel's instrumental arrangements, they soon blossomed into the beginnings of The Bell and The Hammer.
"I think that because I'm introverted, there are things I don't say to other people that I spend a lot of time thinking about. And it's easier to put it in a song," Serenity explains. "It's also a way to figure out what I believe about things that are important to me and to have a record or reference of them."
The project has been an anchor in a sea of ever-changing tides. In 2010, the duo released their debut album To Set Things Right, and through folk-leaning acoustic finger-picking and gentle vocal harmonies, the LP marked a pair of young adults stepping out into the real world and wishing for the best outcome. Daniel and Serenity have been quietly yet consistently working on music through marriage, three kids, new countries, new jobs and new houses and now, over a decade later, the result is The Things We Get Wrong.
It's an album that reassesses what it means to be right, honoring their religious upbringing and relationship with the church while also making room for mistakes.
"12 years ago we were both in our twenties and we had a much more objective and concrete idea about what was right," says Daniel. "We would all be kinder to each other if we just allowed ourselves to be introspective and wonder what we're getting wrong." It's a testament to staying true to your faith, while figuring out how best that fits into every new situation, and every new role.
Soft, serene keys and building percussion make up the backdrop of the gorgeous title track, where Daniel and Serenity's vocals blend seamlessly across a bright sonic landscape. As the last song on the album, it encapsulates much of what makes up the pillars of The Bell and The Hammer: polyphony in the vocal arrangements––an ode to Daniel's love of emo––alongside meticulous instrumental arrangements that are as subtle as they are moving. It's the sound of a pair of musicians creating art despite the pull of life's distractions and responsibilities: the care and attention can be heard in every strum, and every note.
Elsewhere, anthemic first single "I Am The Wounded" jumps right out of the 90s, with its sing-a-long crescendo and bright, sparkling melodies. Paying homage to the alternative era of Gin Blossoms and Letters to Cleo, it showcases The Bell and The Hammer's ability to pair a sunny, upbeat musicality with deeper, darker lyrical aspects.
"If Only For The Night (a Prayer for Peace)" leans into The Bell and The Hammer's power balladry, as Serenity's vocals soar above her clarinet arrangements. They wrote it while living in Korea after becoming involved with a justice group for North Korean refugees. "The group put on activities and we climbed a mountain with some NK refugees and ate lunch after coming back down. It was surreal and wonderful," Daniel says.
Later on "God Hates (a Broken Heart)" the pair ruminate on the heartbreak of unexpected loss after experiencing a miscarriage between their middle and youngest child. "When we then had our youngest, we named her Hetta because it's sweet but also because Heda (or Hediah) in Hebrew means "echo"…as an homage," they explain. Their friend who also experienced a similar situation is welcomed on backing vocals, offering a heart wrenchingly cathartic expression of community in the wake of grief.
Community, connection and collaboration is ultimately the intention of The Things We Get Wrong. Though the album deals with the weight of navigating the world, it also soars with the sprouting of accepting yourself and others as they are. By taking their time, and writing and recording the album over the course of a decade, The Things We Get Wrong is a lesson in patience and understanding. It's the long exhale after holding your breath. It's the first signs of Spring after months of gray skies and icy roads. These songs are Daniel and Serenity Johnson reintroducing themselves, taking their first full steps into the next chapter.
The Things We Get Wrong credits:
Vocals, Clarinet: Serenity Johnson
Acoustic Guitar, Electric Guitar, Bass, Strings, Air Organ, Vocals: Daniel Johnson
Drums, Percussion: Matt Frazer
Add'l percussion and sounds: Matthew Putman
Cello: Hannah Simonides
Bass on track 9: Noah Simonides
Electric Guitar on track 7: Brandon Voorhees
Piano: Dan Cole, Joey Cook
Keyboard: Sammy Mellman
Trumpet and various sounds: Andrew Dost
Add'l Vocals: Elizabeth Beach Kol