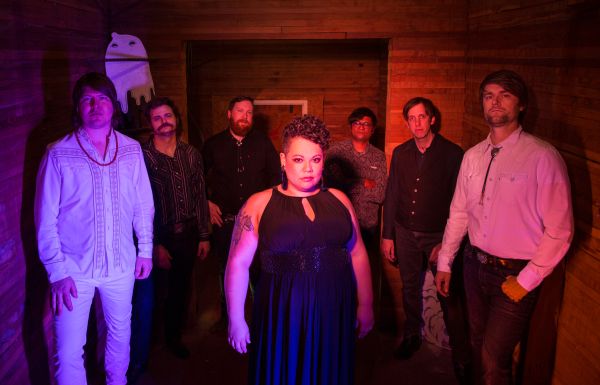 26 September 2019
Collin Hegna Rick Pedrosa Colin Sheridan Maria Karlin Nalin Silva Brian Gardiner Sebastian Bibb-Barrett of Federale – Photo Credit: Eirinn Gragson
Federale is a seven-piece ensemble based in Portland, OR. Spearheaded by longtime Brian Jonestown Massacre bassist Collin Hegna, the band was conceived as an outlet to channel inspiration from '60s and '70s European soundtracks, particularly those from Italy made famous by the Spaghetti Western and Giallo genres.
New album No Justice is set for release on November 8th via Jealous Butcher Records. Spare, yet sumptuous, distilling the lean, gritty essence of grindhouse anomie and wielding orchestral flourishes of widescreen delicacy, No Justice feels like the defining statement of a band fully-realized – a sultry, restless stormcloud arising from the darkness at the edge of town to draw forth the fated reckoning.
Embracing the enormous scope of orchestral cinematic production (courtesy of members of the Oregon Symphony) while subduing the bombast of electrified riffage, Hegna has honed a taut, gleaming precision from his passion project's signature sound. When his honeyed baritone waltzes with the operatic wizardry of bandmate Maria Karlin, the finely-etched lyrical depths fortify Federale's cinematic sway.
The LP's release has been scheduled for Mexico City – the first stop along a summer filled with festival appearances up the west coast from Austin to Seattle.The band will be playing a record release show at Mississippi Studios in Portland on November 23rd, and are also slated to play Freakout 7 Fest in Seattle between November 14th and 17th.
The Big Takeover is deeply pleased to host the premiere of the video for "Aim For The Heart", an atmospheric and vibrant track steeped in foreboding vocals and Western guitar reverb. The kaleidoscopic graphics colored in brightly saturated hues continually move as the tune plays, imbuing it with a psychedelic touch.
Hegna digs up the dirt about the video's creation, explaining, "I've known Bob Mustachio (creator of the video, member of Black Angels) since the early-mid 2000s when he played drums with the Warlocks. The Warlocks and The Brian Jonestown Massacre (with whom I played for 15 years) occupied the same dark-psych scene that existed in LA at the time. We've played several epic shows together over the years. When Bob left the Warlocks he moved to Texas and started doing visuals (both live projections and music videos) for The Black Angels."
"I've long been a fan of the Black Angels' aesthetics. In fact, the single from Federale's 2012 release, The Blood Flowed Like Wine, was sung by Black Angels vocalist Alex Maas. Bob and I have talked for years about collaborating on a Federale track together. When we completed "Aim For The Heart" I knew the moment had finally come."
"I felt his style really jived with the western-jangle-fuzz riffs and lyrics about settling scores that exist in "Aim For The Heart." His video creates the sort of beautiful off-kilter marriage of music and visuals that reminds me of David Lynch. Just like the best trips, it skates ever so close to sliding off the rails."