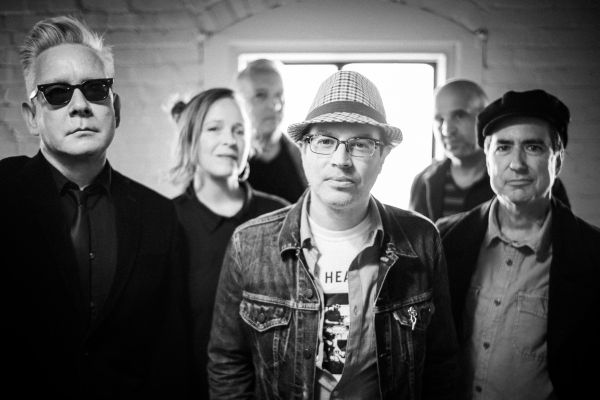 18 June 2020
The Bye Bye Blackbirds – Photo Credit: Scott Evans
"Who's that chasing the days? Who's that pulling the reins? When the world's not slowing down? Baby it's still you."
Oakland, California-located rock and rollers The Bye Bye Blackbirds' latest album, Boxer At Rest, is a celebration of life and strength in the face of loss and struggle.
For nearly 15 years The Bye Bye Blackbirds have been standard-bearers for harmony-laden, thinking person's guitar rock in the Bay Area
Boxer at Rest track "Baby It's Still You" is a swaggering power pop stomper with ringing chords, propulsive horns (arranged by Beulah trumpeter/guitarist Bill Swan), and an earworm chorus affirming the love and presence of a cherished, though sadly lost, friend.
Big Takeover is pleased to host the premiere of the video for retro-popper "Baby It's Still You." Marry Waterson's video is a celebration in texture and color; a collage of images and movement capturing the luminous life forces of those who leave us, but are never really gone.
In the video, black 'n' white footage of a woman dancing and smiling is mixed with a variety of vividly hued designs that morph before the eyes, from landscapes flashing by to a myriad of geometrical patterns.
Boxer At Rest was produced by Doug Gillard (Guided By Voices, Nada Surf) and engineered by power pop legend Chris von Sneidern at Hyde Street Studios in San Francisco.
Don Valentine (I Don't Hear A Single) calls it "a magnificent album, a proper album to be listened to from start to finish" and our own Jack Rabid reviewed the LP in the latest issue of Big Takeover magazine, stating, "Boxer is more literate, well-written rock/pop with the sophisticated freshness of Nonesuch XTC, Posies, Sneetches, and Flop…. Lenny Gill's tasty guitars are power-pop satisfactions, BT's own Aaron Rubin has the supple basslines ("If It Gets Light") for Jozef Becker's (ex-Thin White Rope and Loud Family) beats, and some '80s Saints-like brass is brassy. Throw in Bradley Skaught's sincere voice and facility for major-melodic guitar tunes, and this warmer sound, and Boxer [is] a contender."