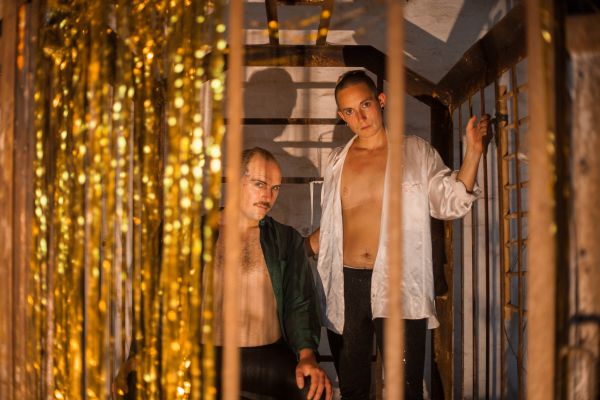 15 October 2018
Feel Freeze – Photo Credit: Ruben Lisboa
The Big Takeover is excited to host the world premiere of Danish electronic/synth-pop duo Feel Freeze's captivating new video "Bend The Night". Taken from the band members Raymonde Gaunoux and Mathias Vinther Lilholt's debut album Feathers & Scars (released October 12th), it's a deeply personal song from trans-identifying vocalist Raymonde. Based on his own experiences, it's an ode to trans identity and an intimate story about growing up and feeling out of place in a society that isn't designed for you.
The song acts as a reminder of his early life, how he now understands all the things he didn't understand while growing up: Raymonde explains, "Something felt wrong, but I didn't know what it was. I just felt out of place in almost every situation. I wrote the song as a trans-empowering anthem, which especially shines through in the spoken word part, where I put myself in a powerful position as a Trans prince who saves the day with glitter and empowerment: "I'm your glitter trans prince, rode in on a unicorn, knight in shining armor, queer child, glitter prince." I wanted to put myself in the position of the protagonist instead of a third person, whose story is being told by others, which is often the case for many trans people."
Drawing inspiration from artists such as ANOHNI, The Flaming Lips, Royksöpp, and Robyn, Raymonde's vocals on "Bend The Night" have a mournful sense of longing. His bittersweetly angelic voice is surrounded by subdued piano notes, shimmering synths, and quietly clacking percussion. A forthright spoken word section helps the song retain a sense of positivity and empowerment.
The video for the reflective, soulful "Bend The Night" was directed by Laura Rathschau and shot in Makvärket, Denmark. It dazzles with luminescently glowing designs superimposed upon Raymonde wistfully singing and Mathias delivering backing vocals. Whether dressed in angel wings or displaying the scars on his chest from surgery, the duo are all about showing the struggle and celebration of transgender people in a thought-provoking and captivating light.
Feathers & Scars combines personal emotion with political sincerity. Dedicated to the queer community, the duo wants to show the world how you can bend norms for gender identity, sexuality, and the life of queer existence. The album tells about pain and struggle while firmly remaining an uplifting celebration of diversity in sexuality and gender identity.
The LP is out now via Icons Creating Evil Art
Feel Freeze will start their European tour in November 2018 hitting Paris, Berlin, Stockholm, and Copenhagen. Their engaging live show reached new heights when they headlined Copenhagen Pride 2018 and they have earlier toured both Europe and Asia and supported Thomas Dybdahl and Cymbals Eat Guitars.
comments powered by