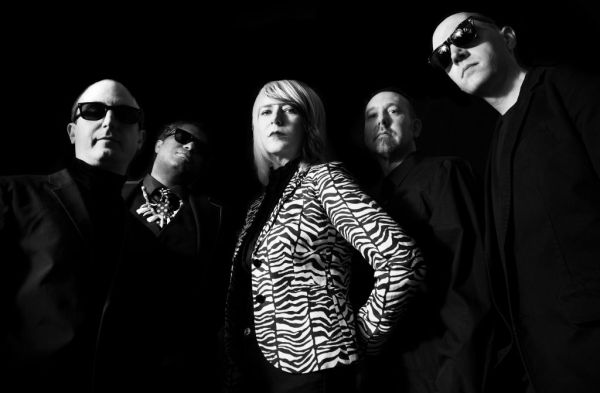 29 April 2020
The Electric Mess – Photo Credit: Jolie Clifford
NYC-based rock 'n' roll band The Electric Mess offer up dynamic and tuneful music fueled by '60s garage rock,high-energy '70s punk and hard rock, psychedelia, and New Wave.
The Electric Mess formed in 2007 is is comprised of striking frontwoman Esther Crow (vocals, rhythm guitar, percussion), Oweinama Biu (keyboards, vocals), Dan Crow (guitar), Derek Davidson (bass), and Alan J. Camlet (drums, vocals).
The band's fifth full length album, directly and aptly titled The Electric Mess V, was released on April 17th via Soundflat Records.
The Electric Mess V highlights the band's wide range of influences and honed-energy delivery. The garage-punk five-piece pack a mighty punch, led by a unique vocal team of Esther Crow and Biu. Building a lively and engaging performance, they take listeners on a ride to the wild side.
The road warriors have also toured throughout the US and Europe, putting on sharp and electrifying live shows.
Big Takeover is stoked to host the premiere of a unique and entertaining audio-visual experience from The Electric Mess. Titled Beneath the Yellow Moon, the video EP is a consecutive run of videos for a select bunch of songs off the new album.
The videos for the LP tracks "Too Far," "Last Call," "City Sun," and "Speed of Light" bring together a seriously fun blend '80s MTV-style footage with abstract and psychedelic inspiration.
"Sometime in 2018/2019 we decided to write an EP with a video for each song. We then just wrote a bunch more songs that fit together as a full length album, which became The Electric Mess V," shares Esther Crow. "We still thought it would be cool to have a video EP, so we planned them out and asked a bunch of friends to star in them."
The band shot in DIY mode in various locations across NYC, as well as at Hoboken Recorders, where they self-recorded their album, with Camlet engineering and mixing.
On the first part of the storytelling video EP for "Too Far," ancient Greek and Roman, mythology is evoked with period garb and adornment, and natural landscapes, as various characters (Hmmm, Zeus and Poseidon…and maybe someone in a prom dress?) interact with each other.
This segues into classic pop-rocker "Last Call," another narrative clip that this time takes place in present day. The character named Lily reminisces about a previous relationship while wandering through a forest setting. Her ruminative view of the past are showcased with a version of her younger self and the subject of her affection. The plot is intercut with footage of the band performing the number.
Brisk and melodic jangle-pop-rocker "City Sun" features the band playing in front of island backdrops and cityscape vistas, shot through with vivid to hazy hues. Three spear-wielding and crowned figures from the first video make an appearance here, and Ester Crow turns into a a robe-shrouded figure as she exclaims, "The sun is going down / How many more days do I have left?
"Speed of Light" kicks it into even higher gear with its gritty fuzz-rock vibe and drive. In the video, characters mingle on board a spaceship cruising the starry sphere (a cross between Star Trek and The Love Boat, by the zany looks of it!), but there's a shady caper afoot with some questionable folks being some contraband on board and aliens attacking the command. The band appear as the live entertainment (a nod to the Star Wars cantina, perhaps?), rockin' out with passionate abandon.
The Electric Mess V is out digitally everywhere including Bandcamp, Spotify, and Apple Music. Physical CDs and vinyl can be ordered directly from Soundflat Records.
Website
Facebook
Twitter
Instagram
YouTube
Bandcamp
Spotify