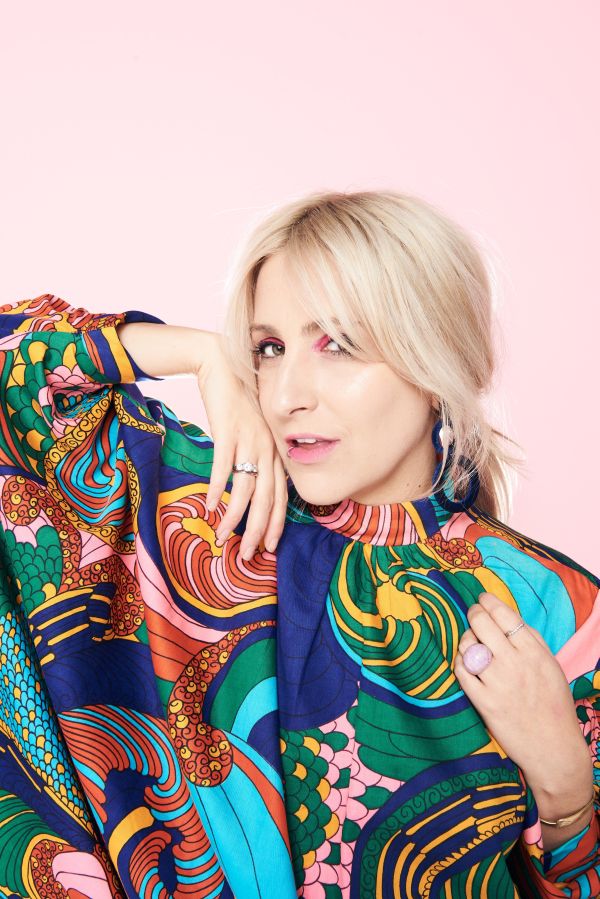 6 February 2020
High Waisted – Photo Credit: Micahael Todaro
Today NYC-based indie rock/surf pop band High Waisted announce their second album, Sick of Saying Sorry, sharing lead single "Boys Can't Dance" with its accompanying official music video. The track is an explosive, in-your-face, danceable rock n' roll anthem that lyrically touches on heavier topics in classic High Waisted fashion..
The Big Takeover is stoked to host the video clip, with footage that follows a night out partying – general debauchery, silly dancing and slap-happy, carefree fun – something we can expect from High Wasted, from their live performances, general sound, and visual and aesthetic vibe. But the video ends on that morning after, where you feel as if the night was merely a dream, and the reality of life is setting in again.
The long-awaited full-length is sure to bring the party, but will also delve into more serious narratives, with difficult themes such as loss, past trauma, isolation, and recovery being addressed.The LP was born on scraps of paper, written on 4am train rides between Manhattan and Brooklyn, and in singer and guitarist Jessica Louise Dye's tiny apartment with a broken acoustic guitar.
The end result was a labor of love for Dye and bandmate Jono Bernstein (drums), the core members of High Waisted. Dye's powerful voice meshes with her infectious guitar melodies and Bernstein's vintage drum vibes. They create modern-day anthems full of insight, hope, and empowerment
Sick of Saying Sorry features a variety of musician friends and collaborators who added their various talents to make the songs come alive in their final forms. The album was produced by Tad Kubler of The Hold Steady – "a remarkable producer," the band says, who was fully invested in the project both sonically and narratively, sparking creativity and inspiration for the direction as a positive force. High Waisted also enlisted Richey Rose (Wendy James, Tamaryn, Jennie Vee) on guitar, longtime friend and keyboardist Mark Buzzard (The Format), and Arun Bali (Saves The Day), who mixed the record.
High Waisted will be performing select dates (Mercury Lounge in NYC on February 22nd) ahead of the album's release, and will soon announce US tour dates in support the LP.
Sick Of Saying Sorry comes out May 22nd. Keep an eye out for more news from High Waisted on this highly anticipated album and tour dates to support what were sure will be their strongest material to date.
Dye digs into the meaning behind "Boys Can't Dance," commenting, "I had been cooped up for a long week of work and was really itching for a proper night out with my girlfriends. This song was ripped directly from my inner monologue; wanting to let my hair down, eager for the weekend and ready to do something I might regret. It's an anthem for letting yourself have some much deserved fun. That weekend I remember noticing the dance floor was shared mostly by ladies as the guys lined the perimeter. And I thought, oh, these boys can't dance because they have their hands in their pockets! There's nothing more freeing than getting lost in your favorite song and letting your body wiggle, shake and twist void of worry or insecurities in the middle of a crowded room. Everyone deserves to dance."
Pre-Save "Boys Can't Dance" HERE
"Boys Can't Dance" VIDEO CREDITS
CREW:
Director: Zachary Wright
Producer: Samuel Miller
1st AD: Andoni Elias-Nava
Director of Photography: Frank Schwab
1st AC: Jinuk Lee
Editor: Zach Bass
Gaffer: Louis Weissman
Best Boy Electric: Julian Tuzzeo
Key Grip: Philip Woolridge
Best Boy Grip: Javaun Crane Bonnell
Production Designer: Mason Reynolds
Props Master: Freddy Pelaz
Set Dressing Purchaser: Anthony Pausic
Costume Designer: Angela Solouki
Costumer: Melissa Garcia
Key HMU: Laura Morton
HMU Assist: Addy Cahill
PA/Driver: Alissa Torvinen
PA/Driver: Demarcus Leak
G&E: Alliance Grip & Electric
Camera: Eastside Camera
Lodging: Andrew Loviska
CAST:
Hero Male: Paddy Conner
Bride To Be: Jessica Louise Dye
Bacheolorette: Mom: Rosemary Hochschild
Bacheolorette: Mikki Hernandez
Bacheolorette: Magen Young
Bacheolorette: Diana De Luna
Bacheolorette: Addy Cahill
Roommate: Jono Bernstein
Roommate's Partner: Ella Zoller
Website
Facebook
Twitter
Instagram
YouTube
Tumblr
SoundCloud