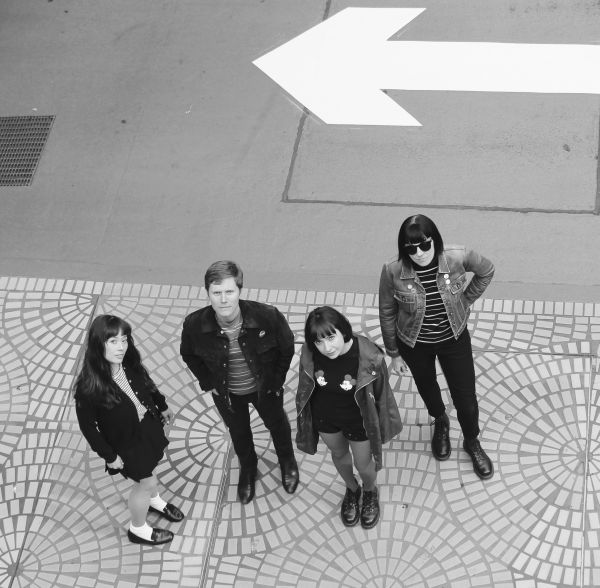 15 November 2021
Seablite – Photo Credit: Michael Aguilar
Seablite is a four-piece pop band from San Francisco inspired by '80s/'90s indie and shoegaze music.
Founding members Lauren Matsui and Galine Tumasyan had been writing songs together for several years; when joined by guitarist Jen Mundy, Seablite debuted an auspiciously-received EP in 2017. Drummer Andy Pastalaniec soon joined and the group began playing regularly in support of their EP, including opening nods from Brian Jonestown Massacre and The Charlatans.
The band sparked the attention of Emotional Response label founder, Stewart Anderson (of Boyracer on Sarah Records), and they began recording their next release.
In June 2019, Seablite's LP debut, Grass Stains and Novocaine, was released by Emotional Response, garnering domestic and international praise. Seablite ended their eventful 2019 by supporting Ladytron at The UC Theatre and placing #36 on Good Morning America's top 50 albums of the year.
Seablite's follow-up 10" EP, High-Rise Mannequins, was recorded and produced by Alicia Vanden Heuvel of The Aislers Set and co-released by Emotional Response and Meritorio Records in February 2020.
With a new 7" single coming out on Emotional Response, Seablite are looking forward to a promising 2022.
Seablite will play Oakland Weekender on Jan 7th, along with Andy Pastalaniec's other band, Chime School, and fellow label mates Neutrals, Boyracer, Tape Waves, and Mick Trouble.
Commenting on the upcoming 7" "Breadcrumbs" backed with "Ink Bleeds,", Lauren Matsui reveals, ""Breadcrumbs" and "Ink Bleeds" were recorded in May 2021 pandemic-style at our individual apartments and practice space. We started with a demo that Andy built a drum beat for, then we individually added our parts, and then sent the Logic project to the next person to add their parts. This was the first time we had ever recorded separately; usually we record together as a group. After we finished recording, Andy mixed the tracks."
While the 7" arrives on January 1st, Big Takeover is pleased to host the premiere of the delightful performance music video for "Breadcrumbs."
Filled with dynamically moving, sparkly, and bright hues that range from golden yellow, sweet rose, infrared, and ultraviolet, the video also focuses on close-up shots of the band members playing the deeply propulsive, lightly abrasive, and dreamily swirling song graced with gently airy vocals.
"The video for "Breadcrumbs" was filmed in June 2021. Directed and edited by Chicago-based videographer / editor Jenn Dorn Heard. Jenn gave us a shot list to work off of and with the help from our friends Brian Jackson, Kevin Wood, and Helena Antonowitsch, we filmed all the shots via iPhone in Lauren's garage. Jenn took all the footage we got and made magic with it," Matsui concludes.
Preorder the 7" in limited colour vinyl version and limited enamel pin at Bandcamp
Website
Facebook
Twitter
Instagram