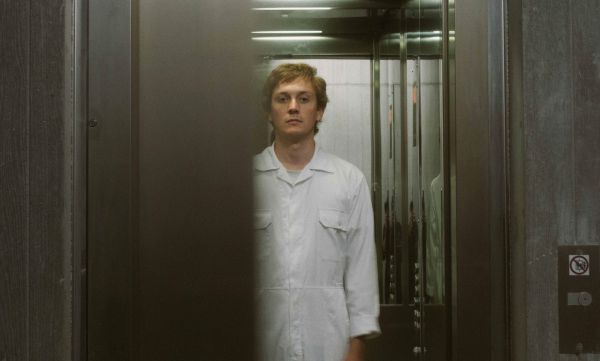 23 November 2021
Collect Call – Photo Credit: Tan Le
Often finding ourselves looking overseas to the UK for musical delights, we also frequently turn our ears towards Brighton (a.k.a. London-on-the-sea), not surprising thanks to such artists as Nick Hudson, The Academy of Sun, Beat Hotel, Kim Thompsett and Leanie Kaleido.
Today we turn our attention towards a fellow Brighton artist, who goes by the name Collect Call, presenting the latest single from this indietronic / electronic dreampop project. 'Chase The Light', with its drum and bass drive, stop-start patterning and enamouring vocals is catchy as hell – an invitation to put this track on repeat and explore 'The Golden Hour' EP from which it comes, along with three other ripe tracks.
Collect Call is the solo project of Brighton-based multi-instrumentalist and producer Joseph Thorpe.
The music video for "Chase The Light" is surreal to say the least. It's set on a pebbly shoreline, with Thorpe plucking a fake furry rabbit's head out of the sand. He's dressed all in white and he puts the rabbit head over his own, all while the camera shoots from a distance.
The far-off shot of Thorpe standing on the beach in cartoon rabbit attire slowly zooms in closer and closer, until viewers just see the rabbit's face, and finally Thorpe's own as he performs the song.
Collect Call creates electronic dream pop that ranges from soft and sensitive to loud and bombastic, his delicate textural synthesizers, energetic drums and rhythm interlace with a balanced sense of space and sincere introspective lyrics.
Reminiscent of Youth Lagoon and Sufjan Stevens, Thorpe's vocal timbre has elements of Chris de Burgh and even the depth of expression of Beck and even Nick Laird-Clowes of The Dream Academy. Such comparisons can only be seen as compliments. While the song's lyrics seem to revolve around heartbreak and the will to move on, the upbeat tempo is invigorating and its melodicism is laced with sonic reverie.
'The Golden Hour' is a romantic, nostalgic journey through sound that is about embodying the dying embers of the day and not giving up the ghost when all might seem lost. Thorpe's unique brand of indie pop is a beacon for like-minded people, standing its ground with whimsical, lo-fi electronic beats and sincere vocals.
Recorded across a mixture of cupboards, attics and studios, Thorpe meticulously sculpted this EP at Brighton Electric Studios with the help of collaborator Kianna Blue (The Academy of Sun). TAOS bandmate Ash Babb also contributed the cover artwork for this EP.
Last year, Joseph Thorpe released his first music under the Collect Call moniker with two standalone singles – 'Rain: Stop' in June and 'Pretense' in October.
He's come a long way with this latest release 'The Golden Hour', creating a space for candid self-expression, having done so with nuanced vulnerability. Taking inspiration from the likes of Sufjan Stevens and Air, this new 4-track offering is as experimental as it is emotive.
Thorpe has to say this about his latest EP:
"The recording of this EP came at a point where I was feeling very lost as a musician and writer. I had been sitting on a large collection of songs and wanted to try every conceivable avenue I could musically that didn't really have any sense of cohesion; I became depressed and questioned what direction I was going in, as well as the other two members of the group at the time departing the project for personal reasons."
"When the world plummeted into lockdowns, I began tinkering with an idea that would later become 'Pretense'. I had been listening to Sufjan Stevens and Kings of Convenience at the time and felt that finishing the song helped me break out of my fugue state and I could get back into making music that I enjoyed. I then went back and whittled what originally was a 7-track EP to just 4, incorporating two old songs that I reworked and two new ideas that were all but completely recorded in one day at Brighton Electric Studios. The Golden Hour for me is a cathartic reminder of staying true to yourself, chasing the light as it fades over the hill and that sometimes less can indeed be more."
'The Golden Hour' is out now and can be downloaded from all good online stores, but why not support the artist directly by ordering it directly via Bandcamp
CREDITS
Written, produced and mixed by Joseph Thorpe
Corin Robinson – additional engineering, mastering
Joseph Thorpe – vocals, keys, drums, guitar, bass, synths
Kianna Blue – piano, additional synthesizers, percussion, sound effects
Lawrie Pringle – bass on 'No Amount of Medicine'
Andrew Stuart-Buttle – strings on 'Simple'
'The Golden Hour' cover artwork by Ash Babb
Artist photos taken by Tan Lee
Also check out the video for previous single 'Simple', which was animated by Joe Luca Kearns, as well as the EP as a whole.
Collect Call
Facebook
Bandcamp
Instagram
Twitter
SoundCloud
YouTube
Apple Music
Spotify