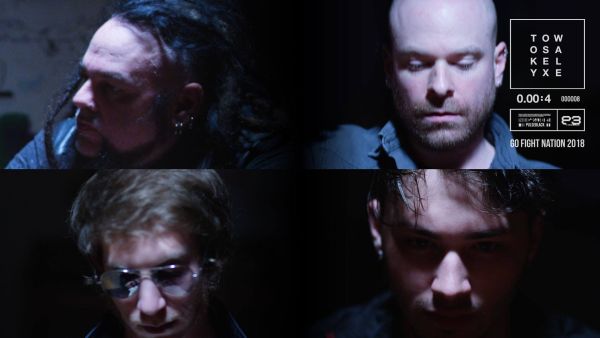 20 November 2018
Jim Marcus, Vince McAley, Dan Evans, and Mission Marcus of Go Fight – Photo courtesy of Go Fight
Jim Marcus, the lead singer of the seminal '80s industrial band Die Warzau, started Go Fight in 2013 with fellow Die Warzau alumnus Dan Evans to build a kind of music that they weren't hearing, an anthemic, song-focused, but grungy approach to industrial that they called "electro-scuzz".
Jim Marcus (vocals, percussion, drums, noise) and Dan Evans (guitars, noise) enlisted Marcus' son Mission (bass, noise) and world-class drummer Vince McAley, whose recent performances with Cubanate and Chemlab have filled up clubs and houses, have also been integral parts of the sound that is vivid, sharp, bristly, and energetic, especially live on stage, and danceable and uplifting on record.
Go Fight's' voice has emerged as being sex-positive, anti-war, pro-LGBT, pro-women, and compassionately aware of the trials that push people toward suicide. Go Fight has always been an advocate for new bands, new music, and young people's ambition to do what they want; to build something amazing.
The Big Takeover is pleased to host the premiere of the video for "Chemical" (from the album Tokyo Sexwale), the title track of GoFight's new EP. The record will be released on November 20th and features remixes of "Chemical" by artists such as Blue Eyed Christ, FIRES, Interface, Panic Lift, and more. It will be released on Jim Marcus' label Pulse Black.
The narrative video is a fun ride through a bored woman's purchase of a human-looking male-constructed robot. Will he be the answer to her fantasies? Will he do the dishes? Will he grant her 3 wishes? The scenario is played out against a romping pace of thumping drum beat, rubbery bass line, crisp and slinky percussion, a dotting of electronic notes, the swirl of synths, and slightly mechanical vocals from Jim Marcus.
Jim Marcus reveals some backstory for the video, explaining, "When I was younger I used to hate so much shows like Bewitched and I dream of Genie because they were all about these magical people- women with magical powers – and they were all with these dullards- men who wanted them to not be magical. I wanted to showcase that here in this video- to show how someone magical doesn't really need anyone in their life to be that magic person. So I asked Nicole to be in [the video. She's] one of the most magical people I know. We had a lot of fun with the song and with the video."
Buy Chemical EP at Bandcamp
Go Fight Facebook
Pulse Black Website
Go Fight Bandcamp
Go Fight Twitter
comments powered by