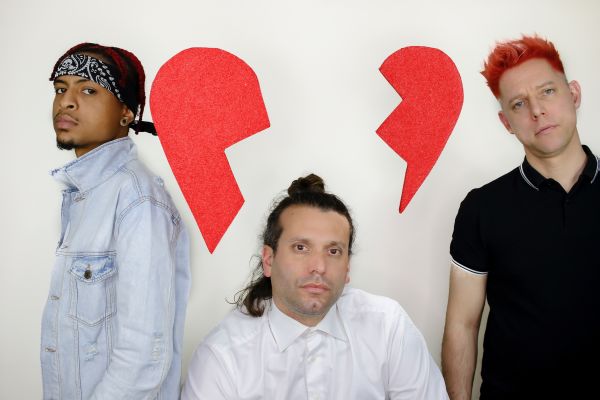 1 April 2019
PLVNK – Photo Credit: Ashley Rhykeela
PLVNK (pronounced: Plank) is a multi-genre L.A.-based musical group who write, produce, and perform songs that reflect the diverse background and influences of its three members.
Rapper Johnboycool represents the new wave of the tight-knit Compton music scene that brought both Dr. Dre and Kendrick Lamar to prominence. Singer Nachum, who is from Israel, and UK drummer Mal bring an eclectic taste of genre-expanding music including alt-rock and electronica.
Earlier this year, the trio release the super-catchy song "Cindy With An S", a mix of upbeat '50s rock 'n' roll and intricate West Coast rap. The Big Takeover is jazzed to be hosting the premiere of the fun and high-energy video for this track.
In the storytelling video, "Cindy with an S" appears in a red dress, egging on her boy-toy (or ummm, boyfriend, I guess!) to grab a stash of convenience store goods in a mad dash – as they also break out in peppy choreographed dance.
The band members appear here and there, either as characters in the narrative or performing the number. Meanwhile, Cindy and the guy she's got wrapped around her finger sashay into the parking lot only to be confronted by a suspicious guard.
You'll be on the edge of your feet – I mean, seat, to see what happens next! Will the guard get tough or will he, ah, let down his guard? Find out below. And you can't help but sing – and dance – along to this enthusiastically engaging song and video!