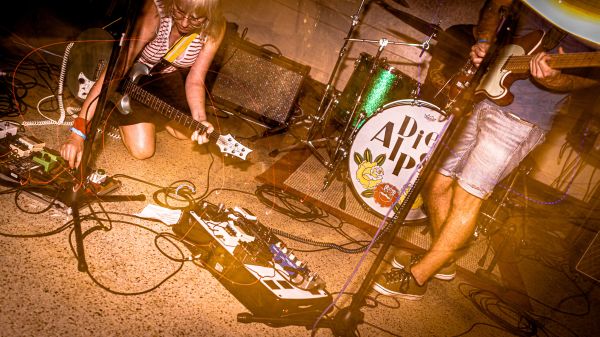 6 January 2020
DieAlps! – live – Photo courtesy of DieAlps!
Austrian born and raised Connie Calcaterra and husband/guitarist Frank Calcaterra, lead Tampa's DieAlps! (translated: The Alps!; pronounced "dee-alps").
Formed in 2012 and quickly becoming one of Central Florida's more beloved acts, the band released its self-titled debut EP in 2014, with lyrics reflecting Connie's growing up abroad and her life changes in the States, Their debut full-length, Our City , arrived in 2017, heavily inspired by '90s alternative and indie rock.
The Calcaterra's remain at the core of DieAlps!, with other members of the band being replaced since their debut album release. The outfit continues on and will release their next album, More Important Things, on February 7th via New Granada Records.
The songs on More Important Things, like the title suggests, are the Calcaterra's most personal and confessional yet. The line-up switches and life changes challenged and encouraged Connie and Frank, giving them new perspective as the primary songwriters. Topics range from the political to mental health and relationship turmoil, with the goal of reevaluating what is truly important in their personal lives.
The Big Takeover is stoked to host the premiere of the new video directed by Javi Fick for "Common Denominator," a flowing and scintillating indie rock track from the forthcoming album. Connie's wistful exclamations swim in a burnished sea of gritty guitars, bass line undertow, sweeping keyboard notes, crashing drum strikes, and bashed cymbals.
The video is set in an old hall outfitted with a dangling disco ball and pasted with flowered wallpaper. The band members offer up an engaging live performance that's book-ended by the sharp click of a film projector. Interspersed between the song-playing are quick clips that focus on Connie and Frank – individually mostly, but at the end, sweetly, as a couple.
The official album release show will take place in Tampa, Florida, on Saturday, February 15 at American Legion #111, with an East Coast tour following on the band's way to The New Colossus Festival in March.
Website
Facebook
Twitter
Instagram
Bandcamp