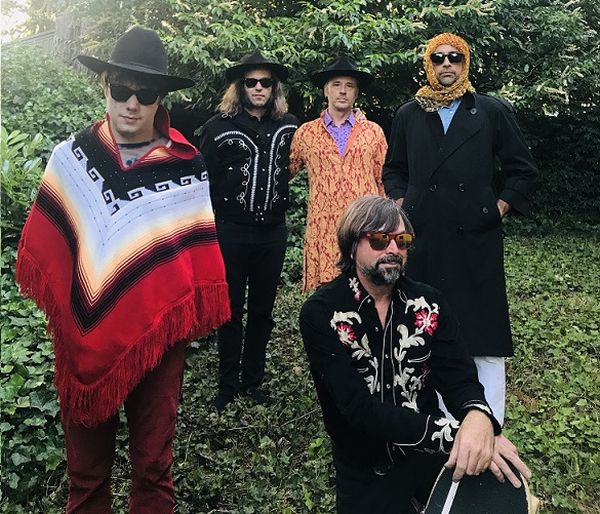 19 February 2020
Low Hums – Photo courtesy of Low Hums
Seattle-based garage rock/psych-pop band Low Hums released their latest full-length, Zzyzx, back in November. The surreal and captivating album is filled with mystery, killer hooks, and the allure of fuzzy, good-time danceable vibes; plus a lot of fun insights and midnight confessions found in the layers of lyrics beneath the astral energy of each song.
Band-guru Jonas Haskins (vocals/guitar/bass) is joined again by Miles Panto (guitar), and Mike Bayer (drums/vocals/percussion), adding John Faryar ("our new official bass player!"), along with Crystal Perez (additional bass), David Davila (keyboards/combo organs), and Trevor Spencer (percussion/keys/effects).
The perfect summer hang feel of Zzyzx was helped captured by Spencer, who recorded and produced (though the band takes production credits too) at Way Out! Studios in Woodinville, Washington. Spencer had also worked on records by Father John Misty, Jonathan Wilson, and Jackson Browne.
Low Hum's fifth full-length release, the eleven songs on Zzyzx are just as ontologically inspiring, warmly human, and deeply comforting as a force of nature reaching out to us in a divine slumber. This is exquisitely made Pacific Northwest bomp, envisioned by someone who grew up on San Juan Island, coming by way of college town Ellensburg, and finding his tribe of collaborators in the esoteric Emerald City.
The Big Takeover is pleased to host the premiere of the visually trippy (Well, maybe sonically too!) video for "Cosmic Fruit," a enigmatically brooding track from the album. Kaleidoscope-effect imagery of the band performing and people rollerskating at a rink mingle with vintage sci-fi clips of space-cars wandering a fiery arid desert landscape. Dorothy, we're not in Seattle anymore…
Bandcamp
Facebook
Twitter
Instagram