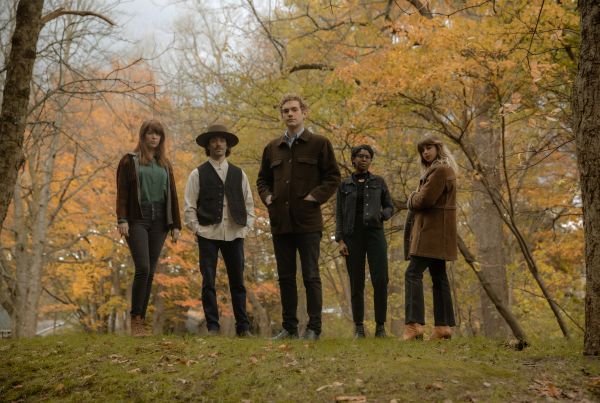 7 October 2020
Ben Morey and The Eyes – Photo Credit: Will Cornfield
New York-based Ben Morey and the Eyes' new album, entitled Still Life, is set to release on LP and cassette via Dadstache Records on November 13th.
Ben Morey's (Howlo, Dumb Angel) characteristic pensive lyrics shine through on Still Life, which also has songs co-written by his spouse and Eyes bandmate Katie Morey (Katie Preston, Pleistocene). The record's sound is rounded out by Cammy Enaharo (Cammy Enaharo & Dessert, Gold Koa) on bass and vocals, Mikaela Davis (Mikaela Davis & Southern Star) on vocals, and Joe Parker (Attic Abasement) on percussion and vocals.
Fans of Morey's work might recall a more expansive lineup for his previous work with the Eyes. On 2017's Mt. Doom more than 20 different artists were credited in the album's liner notes. With pared-back personnel, Morey is able to fully explore the alt-country/indie folk sounds that make up much of Still Life. "I think this record has a focus and a clarity that the albums I've made in the past haven't," Morey says.
Big Takeover is pleased to host the premiere of the socially perceptive performance music video for "Cry Cry Cry," an engaging, but bittersweet, '70s-steeped number. Laurel Canyon-style guitar jangle, fluid bass line, brisk drumming, delicate piano notes, and a symphonic-style synth backing sweeps by, along with wistfully plaintive vocals from Ben Morey that are backed by sweeter harmonic tones.
In the video clip directed by Mike Turzanski, the band members are shot in mostly in close-up, from outside of windows looking into the musical scene. Images of the band overlap amid the soft glow of lamplight.
At the end of the lamenting track, the camera slowly pulls back to show that each member is performing the song in his/her space, separated from the others, but all in the same building… Apart – but still together; a fitting message for these pandemic-driven unsettling times.
Facebook
Bandcamp
Dadstache Records Website