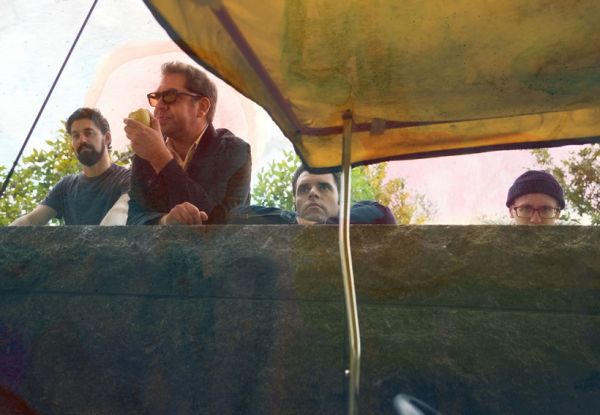 9 May 2019
Onesie – Photo courtesy of Onesie
Brooklyn-based indie rock/power pop band Onesie, comprised of songwriter, singer, and guitarist Ben Haberland, bassist Zack Fanelli, and drummer Lee Madaus, are set to release their second album, Umpteenth, on June 7th.
Onesie plays up their dual strengths on the LP; fast-lane rock that merges the sugar rush of Big Star/Shoes/Buzzcocks-inspired power pop with the blasting guitars and tender/non-sequitur lyrics of '90s indie.
Recording began in early 2018 at Noisy Little Critter, the enormous barn-cum studio in quiet Downingtown, Pennsylvania run by engineer Mike Bardzik (Jade Tree, Epitaph, Side One Dummy). Tasked with capturing a dryer, more intimate recording, Bardzik proved to be the perfect foil to Onesie's ADD arrangements.
Three days and fourteen songs later, the band retreated back to Brooklyn where Haberland overdubbed vocals, keys, more guitars, and other assorted noises. Following a Memorial weekend trip back to NLC to mix, the eleven song record was mastered by the wizardly Carl Saff in Chicago (Young Widows, Big Business, Body/Head, Russian Circles).
One highlight of the album, "Customers", thunders as an ear-worm reaction to commercial brand saturation, yet ironically its cycling riff and sing-along chorus that could work in a name-brand advertisement.
The Big Takeover is excited to be hosting the premiere of the video for "Customers", the first official filming in support of Umpteenth. It features a handsome and tall mannequin struggling to assimilate into an unforgiving and toxic world. Hounded by past failures and future anxiety, our protagonist struggles to connect with others and seeks solace in similar entities (i.e.,The Statue Of Liberty).
Vocational attempts lead to rejection and damage, but through sheer luck a true purpose is revealed. Our hero engages in a rock n' roll trial by fire in the Onesie practice space. The sacred minivan is the final destination, but fate is pre-determined and we are reminded that our destiny is often implicit in our design.
The videos was shot on location in Brooklyn and Queens with key scenes filmed at Greenpoint's Captured Tracks Shop and Red Hook's Wooden Sleepers.
Ben Haberland goes into the meaning of "Customers" in more detail, explaining, ""Customers" was one of the final songs written for Umpteenth, and it's become one of our favorites to play live. The cycling riff, chugged verses, and harmony guitar leads meander into classic rock/metal territory, so I knew the chorus called for a direct and simple lyric. The line "You don't want customers, you want a cult" is an actual quote, said to me at a job interview for a start-up brand. That expectation for intense, trackable loyalty haunted me. Cult members are by nature unquestioning and less likely to think individually than someone who is comparison shopping. I'm fascinated by that kind of overwhelming digital anxiety, and there's plenty of it to go around. It's a recurring theme on the whole album, and "Customers" boils it down to an anthem."
Bandcamp
Facebook
Twitter
Instagram
YouTube