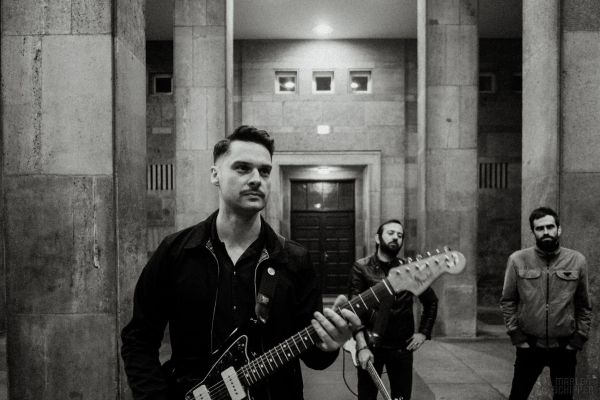 9 June 2020
XTR Human – Photo courtesy of Blackjack Illuminist Records
Spending six years on the successor to a debut album can be risky for a band these days. They might get lost in the turmoil of what is constantly happening in the musical landscape, where what is available is continually being replaced by the umpteenth artist generated by an automated playlist.
What if the artist's or band's song didn't make the algorithm's cut? Bad luck for them, but for the listener something else is already in line, and they just have to click or swipe on.
Yet, a six year wait may also set an example; a sign that it is the right time when the release actually comes out after such a long gestation…
XTR HUMAN haven't been idle after the release of their debut LP, Atavism. They were on the road a lot and, in 2018, dropped their Reflections EP, a sparkling shoegaze/post-punk hybrid that already indicated what was going on in the mind of bandleader Johannes Stabel, who is located in Berlin, Germany.
The compelling new album, titled Interior, arrived on May 29th via Blackjack Illuminist Records and No Emb Blanc, with Stabel (vocals, guitar, synth) at the forefront, joined by Andrew Wiseman (drums, backing vocals), Lemmy Fischer (bass, guitar) of Jaguwar, and Alice Gift (backing vocals on "Giants").
Interior was produced by Fischer and its themes and sound travel through Inner strife and alienation, the fear of failure and eternal doubt, and a melancholic to bleak dystopian beauty.
Big Takeover is stoked to host the video for "Darkest Side," a driving post-punk cut from the album.
The emphatic drum smacks and cymbals crash is augmented by a pouncing bass line, glowering guitar rumble, and brighter synth effervescence. Stabel emotes in a strikingly deep tone, a perfectly stark and foreboding vocal addition to the track.
The video for the whirling song is shot in crisp black and white, with footage of dilapidated cement-block factory buildings, abandoned houses, and overgrown wilderness serving as a backdrop for Stabel as he passionately performs in front of the camera.
Stabel reveals, ""Darkest Side" is supposed to sound like a gloomy '80s disco dance hit that deals with the final stage of a failed love story in which both parties secretly have given up on the relationship. Yet, they are on the brink of breaking up a relationship that was supposed to last."