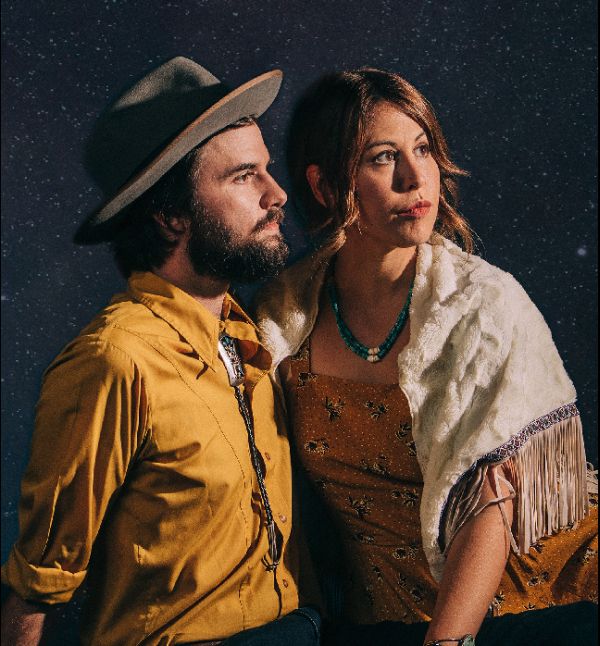 25 January 2021
The Watters – Photo courtesy of The Watters
A self-described clairvoyant massage therapist lit the spark for The Watters' new third album, Intuition.
Daniel and Jenna Watters have been playing music together now for over 12 years, and it shows. They were schoolmates first, who turned into band mates, and then turned into soul mates.
Their adventurous path is woven through four megalopolises (Los Angeles, Denver, Nashville, and Austin) and features repeated codas back to Sedona, Arizona where they first met while attending rival grade schools and playing on the same pee wee football team that Jenna's dad coached.
The Watters became an Austin-based band in 2015. "On one of our trips home to Sedona," says Daniel, _ "we were convinced to take a long detour to Austin, Texas and ended up at a show at The Continental Club Gallery where we decided that night we had to move here."_
Now, after recording two albums and playing relentlessly around Austin for five years, The Watters, whose airtight version of Americana/soul often elicits comparisons to Fleetwood Mac (to whom they've been known to play Tribute shows around ATX), Tedeschi Trucks Band, and Rilo Kiley, have won a major grant from local music non-profit Blackfret and just released their new album Intuition this past Friday.
Intuition's primary genre is morose and/or profound lyrics delivered with buoyancy and mirth. Horns and organs trill around sharp corners. Perfectly executed harmonies and immaculate vocals envelop the tracks in a warmth that often belies the lyrical content. That duality is life, if you're lucky, and it's what The Watters excel at.
Back to the clairvoyant masseuse — during a 2018 trip home to Sedona, mid-massage, she gave the album a name: "below the heart, above the gut", which became Intuition, the album's eventual title.
Intuition was recorded live over five days at Good Danny's Studio (Sheerwater, Wye Oak, Of Montreal) in Lockhart, Texas in October 2019. It features JJ Johnson (Tedeschi Trucks Band) on drums, Anthony Farrell (Greyhounds) on organ, Trevor Nealon (Band of Heathens) on keyboards, and Joe Beckham on bass. Horns and vocals were overdubbed at Birdhouse Studios and background vocals were recorded during Covid-19 lockdown. Intuition was mixed by Danny Reisch of Good Danny's and mastered by Greg Calbi at Sterling Sound.
Big Takeover is pleased to host the premiere the first music video from the album, for the track "Déjà Vu"! The song itself is a plucky number that marches with a staccato pace of measured drum hits punctuated by bright horns. A low tone bass line adds some shadows, while insistent guitar lines and peppy keyboard notes surround Jenna's soulful vocal flow.
The video clip focuses on Jenna facing the camera lens as she strolls placidly down a pathway in the woods. She continually holds up a smartphone to her face, with the image on the screen displaying her lips as she sings.
On her journey she encounters Daniel, and then he moseys along and joins up with other band members. Jenna's smartphone is passed along to each person, and they put it in front of their faces as different parts of Jenna's face is shown on the screen.
Like pieces of puzzle that finally come together, the screenshots and meet-ups give a feeling of connection between the band members during this time of self-isolation and social distancing.
The band comment on the song, stating, "Have you ever seen someone and felt immediately like you know them? Felt like you've been somewhere you know you've never been? Where does that feeling come from? Are we spirits that have transcended different life times, bumping into souls we've met in past lives? Are there alternate dimensions? Are our dreams imaginations or astral projections? I certainly don't know, but my intuition tells me this isn't my first go around this world and I love meeting new friends that feel like old siblings."
Website
YouTube
Facebook
Twitter