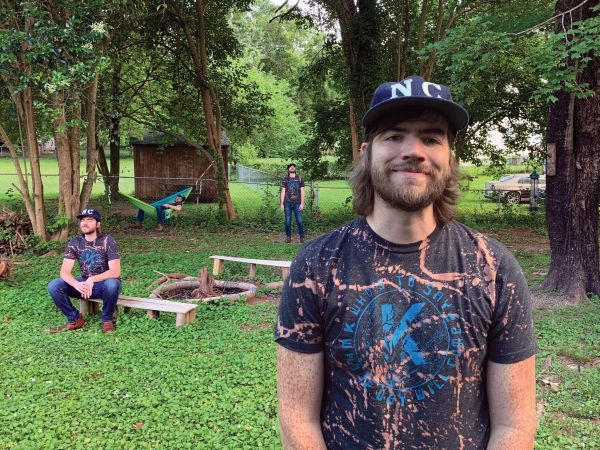 28 July 2020
Thomas – Photo courtesy of Thomas
When quarantine began to stretch over North Carolina in March, Thomas McNeely knew free time was about to become his new stock-in-trade. For years, McNeely had split his life between gigs in popular Raleigh restaurants and stints recording or touring with some of the region's best bands.
By night, he might be slinging dishes or drinks in the state's first mezcal bar or a downtown oyster dive. The next day, he might be drumming behind the funk maestro Boulevards, writing rock records with Reese McHenry, or touring alongside the likes of Future Islands with the great Jenny Besetzt.
But that was over for now, McNeely understood. It was time to return to a hobby he'd let languish: songwriting. While you may have been tinkering with a sourdough starter, McNeely was making Total Restoration of the Heart, a five-song excavation of tender and toughened feelings that takes familiar indie rock tropes for an exuberant ride.
Though stay-at-home orders allowed for near-infinite possibilities and tinkering, he rendered these songs as if an actual band were beside him, playing the parts (guitar, drums, keyboards) onstage. With some mixing and overdub help from new pal Stuart McLamb, of longtime Triangle mainstays The Love Language, these songs spring from Thomas' small spare bedroom, the urgent considerations of someone contemplating his future and past while stuck in the present's standstill.
Total Restoration of the Heart will arrive on August 14th and can be Pre-Ordered at Bandcamp
Big Takeover is pleased to host the premiere of the video for "Diss Track Omega," a musically laid-back track that revels in a summertime vibe.
While "Diss Track Omega" plays with a melodic and welcoming indie rock/pop flow, it's Thomas' softly wistful vocals and wry lyrics that make it stand out. The song swoons with the warmth of Barsuk Records' golden era, with a bit of TV on the Radio twisted inside like a vine.
Thomas relates, ""Diss Track Omega" started as a joke with my fellow bartenders, laughing at ourselves for being creative in a space that doesn't lead to financial independence or freedom from a day-to-day grind. I really admire the confidence/swagger in diss tracks, but I don't have beef with anyone so I pretty much dissed myself for the lyrics."
"In general I think the goal of fame/notoriety can be a trap and people end up running in circles chasing after an abstract concept. I ironically found myself indulging this fantasy while producing this record and video under quarantine, so I'll admit there's some motivation to shooting big, just gotta maintain expectations. Musically I wanted to deliver something with a natural groove and summery vibe so the lyrics could feel a little lighter and less righteous."
The video clip focuses on a stand-in for Thomas; a young woman hanging out and lazing about in the city of Raleigh, doing her unfocused thing; an avatar of non-starter ambitions and in-limbo boredom. She's caught in a web of indecision and stick in the moment; wandering around the city and her apartment, and lacking the motivation to kick her life into a more enterprising gear…