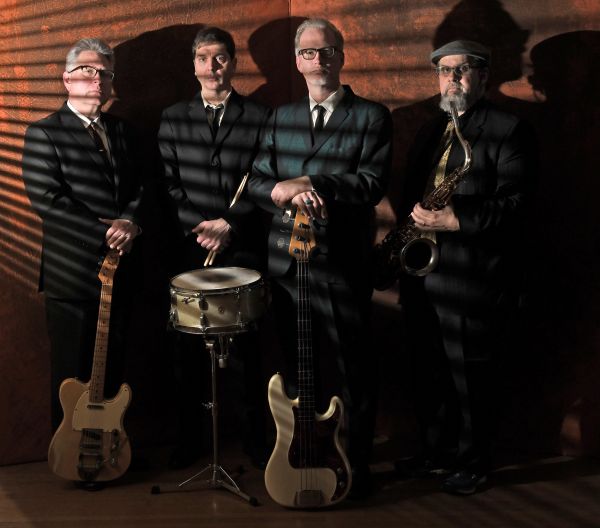 12 February 2019
Impala – Photo Credit: Dan Ball
Impala was formed in Memphis, TN in the early 1990s. Their first longplayer, El Rancho Reverbo, was co-produced by the legendary Roland Janes (Jerry Lee Lewis' guitar player and session player at Sun Records) at Sam Phillips Recording Service. After receiving rave reviews and gaining exposure playing one-nighters across the Southeast, Impala was picked up by West Coast label, Estrus Records.
The band's first release on Estrus was Kings of the Strip, recorded at famed Easley Studio in Memphis. Following the release of this album, Impala toured relentlessly, appearing at garage rock festivals and appearing on shows with guitar legends Dick Dale and Davie Allen and the Arrows. Next LP Square Jungle (cut at Sam Phillips) soon followed.
Over the past decade numerous films and television shows have featured the band's music. Most notable is Impala's arrangement of Henry Mancini's "Experiment in Terror" in George Clooney's Chuck Barris biopic, Confessions of a Dangerous Mind. Another song, "Incident on the Tenth Floor" was used in the trailer for the indie flick Way of the Gun.
The ups and downs and grind of the on-the-road lifestyle eventually caught up with the band members and after their anthology Night Full of Sirens was released on Electraphonic in 2006, Impala was put on ice.
Impala's members couldn't resist the lure of creating music as Impala, however, and reformed in 2017. They returned to the recording studio to create the brand-new album titled In the Late Hours. The LP features ten intoxicating guitar- and sax-driven R&B songs, born out of that golden era of Memphis music when rockabilly, rhythm and blues, jazz, garage, and soul music collided.
The Big Takeover is jazzed to host the premiere of the narrative video for the noir, atmospheric instrumental "Double Indemnity". The antic tempo of the music adds to the mystery and tension that builds up in the video. As hand drums strike a pressing pace, double bass strings are plucked fast 'n' hard, horns bleat and wind, and a simmering drum beat flows ever forward.
In the video, the storyline of an painter and his muse, and a canvas with the image of the band that ends up missing unfolds in enigmatic and hard-boiled '50s-flick fashion. Detectives survey the crime scene with steely eyed determination to solve the puzzle, stymied by the fact that both the artist and his model are nowhere to be found. The owner of the painting enters the mix. Was he involved in this whodunnit? The video's artistic twist ending has to be seen to be believed.
Video credits:
Directed by Edward Valibus
Starring:
Camilla Curran
Rickey Flagg
Rosalyn R. Ross
Brantley Ellzey
Dan Ball
Mike McCarthy
Impala
Camera – Edward Valibus / Kevin Brooks
AC – Justin Thompson
AD – Stephanie Bennett
Aerial – Sean Davis
Editor – Edward Valibus
Art Designer – Brooke Prudhomme
Prop Designer – Dustin Brantley
Hair & Make-Up – Layne Thomas
PA – Ben Siler
comments powered by