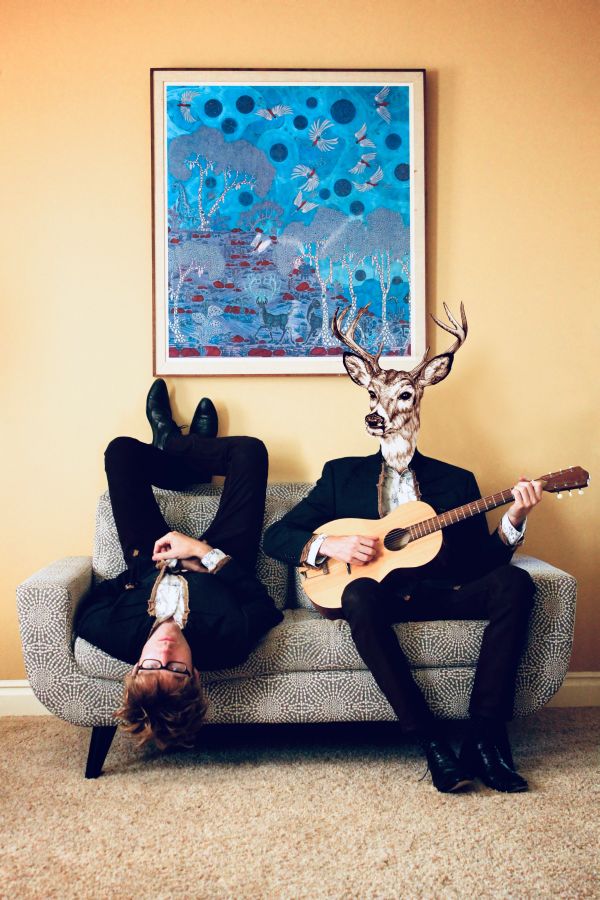 7 August 2019
Nyles Lannon – Photo Credit: Flip Baber
Introspective psych-pop singer-songwriter Nyles Lannon, who is a guitarist in the shoegaze band Film School, released his latest solo outing, The Clouds and the Sea EP, this past spring via Badman Recording Co. It follows up on his previous record, 2015's Falling Inside.
The songs on the The Clouds and the Sea are bathed in a layered, dreamy atmosphere, but maintain a focused clarity and melodic flair in what has become Lannon's signature sound. On the EP, Lannon is joined by Chad Bredehoft (lead guitar), Michael Rivo (bass), Nichole Kreglow (synths, backing vocals), and Jon Langmead (drums), plus a bevy of well-known friends/musicians.
For the video component, Lannon tapped his friend, the notable filmmaker Jonathan Caouette who made the cult favorite Tarnation. That film was released in 2003 and made waves on the arthouse film circuit, earning a 10-minute ovation at the Cannes Film Festival and winning honors from the National Society of Film Critics and a nomination at the Independent Spirit Awards.
Lannon was spellbound by the film, and he was surprised when one day he found a friend request from Caouette on his Myspace page. It turns out Caouette was a fan of Lannon's first solo album Chemical Friends.
The two started an online friendship that, over about ten years gradually blossomed into working together. Lannon started sending Caouette demos that he was working on, and Caouette would experiment with video ideas, which would in turn influence Lannon to take the demos in certain ways.
Lyrics would take new meanings, with certain parts having added poignancy and energy… The two would influence each other and get inspired with long conversations on Skype, deep into the night. Gradually, they decided to take these ideas and actually put them out there. The result is a series of psychedelic, nostalgic fever dreams.
The first video came out in 2018 for a song Lannon had released on his Falling Inside LP called "Dreamer". This year, for The Clouds and the Sea EP, the video for "Hiding" was released, as well as videos for "Love Again" and "Destination Unknown".
Now Lannon and Caouette are releasing the final video of the visual series, for "Dreamer (Alex Kemp Remix)" and The Big Takeover is deeply pleased to host its premiere.
Caouette explains the backstory of how this remixed video, for a remixed song, came to be:
"This video is a "remix" of the original "Dreamer" video that I did for Nyles. It seems only fitting for the remix of a song to correspond to a remix of sorts of the video, but what does that really mean? In the original video, I basically took snippets of '70s TV that I still think about from my childhood and mashed it all up, including a lot from one of my all-time favorites, Paul Falcone's Cosmic Crystal, which appeared on PBS Zoom TV."
"For the remix I really amped it up with more obscure stuff I've found and some digital effects to electrify things. I wanted to create a psychedelic, nostalgic nightmare of sorts. For me, this song is about the beautiful/grotesque duality of our nature – the promise of humanity and the pettiness, our imagination and dreams and growth, and our impending extinction. There is cute nostalgia, but the images grow dark, and there is no escape from our current reality."
The song was remixed by Alex Kemp, another one of Lannon's long-time collaborators. Lannon met Kemp when Kemp called him out of the blue to work on music for a commercial. Kemp, like Caouette, was a fan of Lannon's album Chemical Friends, and working as Creative Director at a thriving agency in L.A. The two began working together daily. As time went on, Kemp opened a surf shop and recording studio in Venice called Lone Wolfs. He recently produced the new Poolside record and recorded with Detroit Symphony Orchestra.
Kemp has produced several tracks of Lannon's in the past, and came through big-time with this remix, transforming the song into something completely different; a poignant, soaring stomper that really takes the listener on a thrill ride.
Lannon was obsessed the moment he heard it, and shared it with Caouette immediately. He was intent on putting it out on his EP. Skype calls ensued and emails – and now along comes the remix video, the acid trip cousin of the original…
Also feast your eyes and ears on the original video for "Dreamer":
The whole video series Caouette has done can be viewed on Lannon's official website
TOUR DATES
August 17 – San Francisco – Amnesia, w/ Young Moon, Banzai Cliff
September 13 – Fairfax – 19Broadway, w/ The Wild Kindness, Canyon
October 16 – Oakland – Crystal Cavern (downstairs at the Starline), w/ TENTS, oYoy