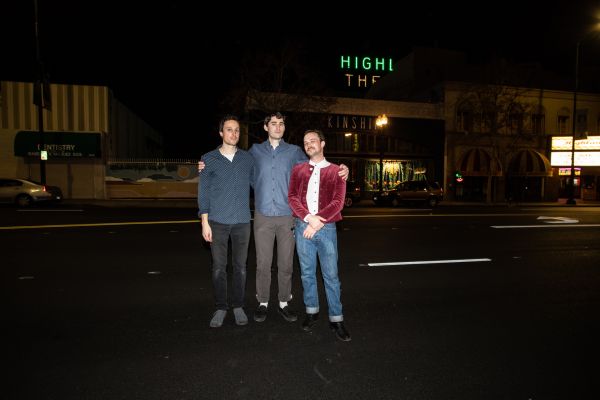 15 April 2020
Rubaiyat – Photo courtesy of Rubaiyat
Rubaiyat is a doom-wop/indie rock band based out of Los Angeles In April 2018 songwriter Joel Heinrich (guitar, vocals) assembled his friends to sing off-kilter, but captivating songs that take a darkly honest look at his brushes with love and loss. With undercurrents of alternative rock sonics like Pixies or Sonic Youth, Rubaiyat's lyrical content is focused on distilling moments into bits of insight of life and love's hedonistic and nihilistic tendencies.
Heinrich recruited Matt Camgros (drums) and Ian Earley (vocals, bass guitar) and the three-piece began playing shows around L.A., including spots like The Satellite, Hotel Cafe, Highland Park Bowl, and The Love Song Bar. In late July of 2018 Rubaiyat recorded their debut EP, O with August Ogren at Petting Zoo in Minneapolis.
Inspired as a modern manifestation of The Rubaiyat of Omar Khayyam, Rubaiyat's music captures the inevitable dichotomy present in romantic love; sonically embodying, through dissonance and harmony, the conflict and confusion of finding love when it seems impossible and the discord between the bliss of romance and the dread of a life without meaning.
Big Takeover is pleased to host the video premiere for the melodic and hypnotic track "Drive," off of O. The video clip was directed by Drew Marquardt and edited by Halsey Alexander and flows along in time with the dreamy drift of the song. Heinrich sings in a softly floating tone, lost in a reverie amid the propulsive drum beat, driving bass line, and fiery guitar expression.
In a cool, eye-catching video technique, the camera focuses on a supine Heinrich as he hovers over the road. The camera follows him as he glides down the cracked faded-black asphalt while ruminating about a relationship. The smooth movements of the camera match the fluid sweep of the engaging tune.
The band shed some light on the lyrical motivation behind "Drive", explaining frankly, ""Love can be dangerous and stupid and make you wanna drive off a cliff from the sheer joy of doing it with someone you love."
LinkTree
Website
Facebook
Instagram