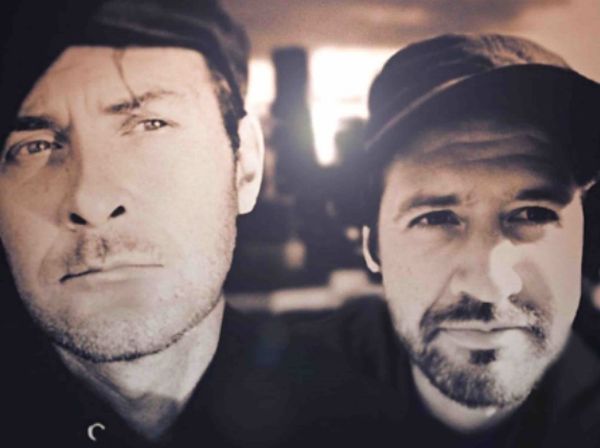 3 October 2018
Lunar Twin – Photo Credit: Frank Sarafin
Today sees the Hawaii/Salt Lake City cinematic dreamwave band Lunar Twin releasing new music with The Big Takeover's premiere of their hypnotic new single and video for "Drunken Sky". The track comes off of Neon Moon, their forthcoming full length, which will be available on vinyl, CD, and digital. formats via Tropical Depression/Desert Heat, the duo's new imprint.
The video, directed by San Rafael, California's Rafael Lopez, is a very vibrant, yet noir document that accents the hazy trip-hop and seductive dream-pop sounds of Lunar Twin.
Lunar Twin is comprised of producer and multi-instrumentalist Christopher Murphy and vocalist and co-producer Bryce Boudreau. They have slowly become known internationally over the last few years for their signature brand of chillwave/darkwave. The group debuted with the 2014 release of their Lunar Twin EP on German label Emerald and Doreen Records, and in 2017 released the critically acclaimed Night Tides EP, both on the Texas cassette label Moon Sounds Records and on limited edition 10" vinyl on Los Angeles' Lunar Twin Music, the duo's own imprint.
The release of Night Tides brought the group further critical acclaim in Europe, both South and North America, and the Asia Pacific. Boudreau and Murphy bring their entrancing blend of cosmopolitan dreamwave and ambient chill to upcoming Neon Moon, as well as venturing into psych-folk and stark desert-moon territory.
Like its title "Drunken Sky", the song slowly spins out with laid-back trip-hop rhythms, shimmering, buzzing, to tipsy synths radiation, and brightly peppering electronic notes. Boudreau draws out his deep, velvety vocals in a soporific daze, even as the track speeds up at its end with a surprising, and compelling, fast-tempo electronica breakdown.
The video's images weave in and out of each other, creating a alluring and hypnotic effect. Footage of Boudreau singing at the mic are interspersed and overlaid with ancient statutes, carnival rides, city streets shining at night, and birds in mid-flight.
Facebook
Twitter
YouTube
Bandcamp
SoundCloud
comments powered by