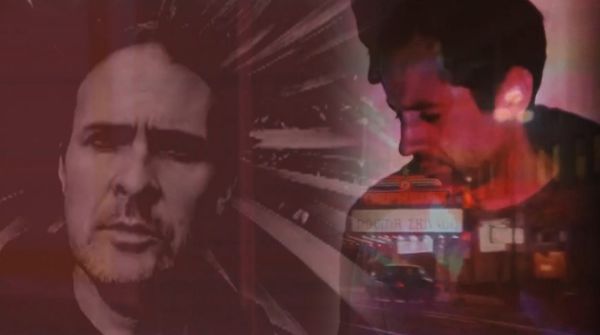 11 November 2019
Lunar Twin – Photo courtesy of Lunar Twin
Hypnotic dreamwave duo Lunar Twin return with the second single, "Electric Lights," and its accompanying video from their forthcoming full-length, Ghost Moon Ritual, due on February 16th, 2020. The LP will be released via Desert Heat/Tropical Depression recordings, the pair's new imprint.
The Salt Lake City-/Hawaii-located cinematic act is comprised of producer and multi-instrumentalist Christopher Murphy and vocalist and producer Bryce Boudreau. They have steadily become known over the last few years for their signature brand of atmospheric chill/darkwave.
Lunar Twin debuted in 2014 with the release of their self-titled EP on German label Emerald and Doreen Records, and in 2017 they bowed the critically acclaimed Night Tides EP, both on the Texas cassette label Moon Sounds Records and on limited edition 10" vinyl on their own previous imprint.
Ghost Moon Ritual is their third release and is awash in their signature blend of cosmopolitan dreamwave and ambient chill ruminations, laments, and dirges, even venturing out into psych-folk and desert noir-themed, nocturnal mood music.
The Big Takeover is delighted to host the premiere of "Electric Lights" and its video, which was directed by Carlos Lopez, a Los Angeles resident and UCLA student who the band became acquainted with through the randomness of the internet.
Lunar Twin state, "[Lopez] cold-called us he offered to make us a video to consider. After seeing what he sent, we readily agreed and the video for "Electric Lights" is now here to share with audiences."
The band again deliver an absorbingly contemplative and slowly unfurling number that wraps around the listener with delicate and shadowy sonic tendrils. Gentle electronics, piano notes, and symphonic strings blend into a flowing reflection that is softened by Boudreau's duskily hushed and velvety vocals.
The video fits into the song's wandering and meditative vibe, featuring numerous, fleetingly shown clips that are timed to the rhythms of the music. Connected by a night-time drive with city lights, a recurring motif of a person running through Tai Chi moves, starry skies, misty forests, ocean waves, candle flame and haze, floating clouds, and the lone moon cycle by.
Boudreau comments on the video, explaining, "To find a work that we could pair with the emotion of "Electric Lights" was great. Grateful to Carlos for his vision which is kinda of the exploration of the dream state/wanderer persuasion and fits right in with our own aesthetic."
Murphy chimes in, "I like that Carlos felt the urge to reach out to us about possibly collaborating on this. He has a cool way of juxtaposing his ideas and clips into video for the song."
Website
Facebook
Twitter
Instagram
Bandcamp