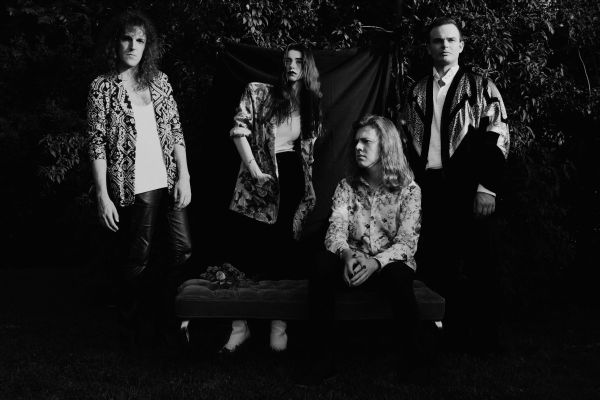 12 November 2020
Prismatics – Photo courtesy of Prismatics
Prismatics is a Missouri-based four-piece influenced by the New Wave, dreampop, and post-punk movements before them, but also informed by harrowing realities of modern life around them.
Earlier this year, vocalist/keyboardist Brooke Austen, guitarist/vocalist Josh Clark, bassist/vocalist Jo Bossi, and drummer Ben Stenberg were set to record the follow-up to their 2018 debut New Emotion when the pandemic hit
The band members had begun the songwriting process before the world was upended by the coronavirus, but they were miles away from each other when recording the album needed to take place.
Prismatics had no choice but to try their hand at recording separately from their homes, eventually forming the songs on their Endlessly EP.
Pulling from miscommunication in the social media age, the dichotomy of passive people turning into agitators online, and a longing to be authentically known, Endlessly is a modern answer for the urgent, yet accessible drive of New Wave greats like Siouxsie and The Banshees and Echo and The Bunnymen.
Lead single "Outside Looking" charged out of the gate as an all-too-relevant post-punk anthem about craving escapism after a period of isolation, Now "Every Smiling Thing" takes the band's ability to write effortless dreampop and looks into the everyday supernatural.
Big Takeover is pleased to host the premiere of the atmospheric video for "Every Smiling Thing." In the greyscale-toned video, a hazily kaleidoscopic-faceted view of sunlight dappling flowers, trees, and grass is contrasted with images of tarot cards and lucky clover leaves.
Austen sheds light on the meaning of the song, explaining, ""Every Smiling Thing grapples with ascribing supernatural meaning to both deeply healing and unexplained phenomena in life, as well as the seemingly mundane and even foolish. What are the repercussions of seeing magic everywhere? What are the repercussions of never seeing magic at all? It's about challenging both the reckless dreamer and the hardline logician."
Website
Facebook
Instagram
Bandcamp