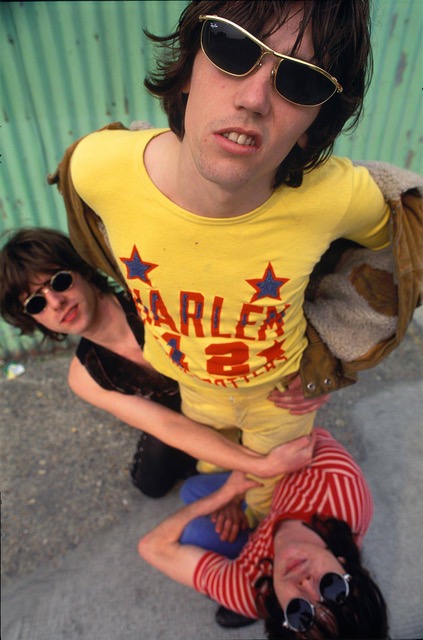 24 August 2022
Photo Credit: Derek Ridgers
UK glam-pop-punks Fabulous only existed for 18 months from 1991-1993, but they were nearly the biggest band on the planet.
Formed as a reaction to hippie/rave culture, Fabulous exploded out of the gate with their debut on Heavenly, the hottest indie of the moment, and was immediately proclaimed NME Single Of The Week. Chaos ensued; their tours caused riots, they sold porno t-shirts, ran around London in the Fabmobile (an Austin Mini with "Arrest Me" painted on the rear bumper), the Beasties invited them to open their London gig, they jammed with Keanu Reeves, were managed by Malcolm McLaren AND Andrew Loog-Oldham, nearly had an album produced by Kylie Minogue and were courted by nearly every major label (signing to at least three).
Instead of capitalizing on all of this, they alienated everyone by enjoying themselves too much. Despite only releasing 3 singles in their brief lifespan, they recorded an album's worth of solid, hooky and anthemic glam-punk, finally compiled and released as the 15 track Get Fucked By Fabulous on Supermegabot Music Concern, with a 24-page booklet telling the band's remarkable story.
About the video: Simon (lead singer) "Everything's Fine" was written as a comeback single after a year or more of hijinks. We'd let a number of big deals slip through our fingers and burned every bridge – everything wasn't fine. The irony of the lyrics wasn't appreciated back then."
Featuring never before seen vintage band footage, "Everything's Fine" is an anthem about collective apathy in the face of a world on fire – as relevant and powerful today as it was when the band wrote and recorded it thirty years ago.