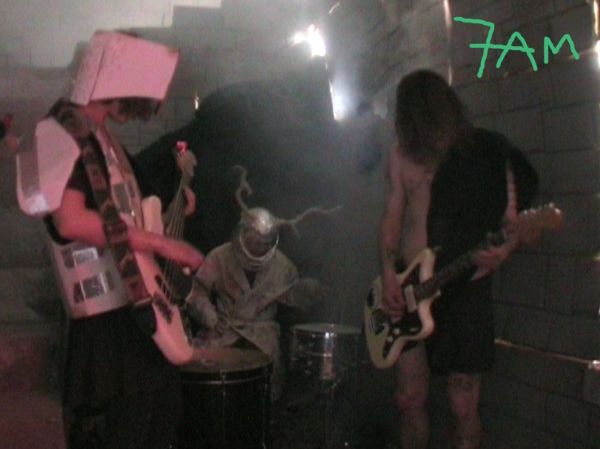 18 September 2019
7AM – Photo courtesy of 7AM
"Be dirty" is one of the most famous pieces of advice for creatives from Brian Eno 'Oblique Strategies' deck of cards, and Slovenian alternative rock outfit 7AM seems to have made it their first commandment.
In a world that wants the surface to be manically clean, the production of 7AM's new album Benefit for Iggy´s shirt is as decidedly scruffed-up as a record can be, and it works. Yet they're no stranger to catchy pop melodies as well, which seem to naturally spring up on the songs, giving birth to a perfect balance with the dirt.
7AM is a three-piece consisting of founding members Anabel (bass, vocals) and Mico (guitar, vocals) who were later joined by drummer Davor. The band has released two albums, Bonus track (2016) and 7AM (2018).
Benefit for Iggy's shirt is their first full length album as a trio, and it´s going to be self-released (like their previous records) on the band's label Pigpower.
Deeply rooted in punk DIY ethics, the band has gained a consistent live experience after two long EU and UK tours, with over 70 concerts to their name.
The Big Takeover is delighted to be hosting the premiere of the eye-catching video for "Everytime". Micro gives some details about the song's creation, stating, "It's probably the most spontaneous expression of 7AM so far. The whole song is basically 'first take' from day one. I just grabbed a guitar getting ready for rehearsals and randomly started to play that riff. Anabel and Davor joined and the song just worked for us. So we left it like this. The rest has to be interpreted by the listener."
That random and wandering nature spills out into the video format for "Everytime", with an artist, pen in hand, beginning and then continuing to draw various images – whatever came to mind – until the end of the video.
The vid is shot close-up with just part of the artist's hand in view and the pen tip, as the focus is on the flowing black images and designs that materialize on paper. It's a fun and involving video and one that's hard to look away from.
Pre-order Benefit for Iggy's shirt