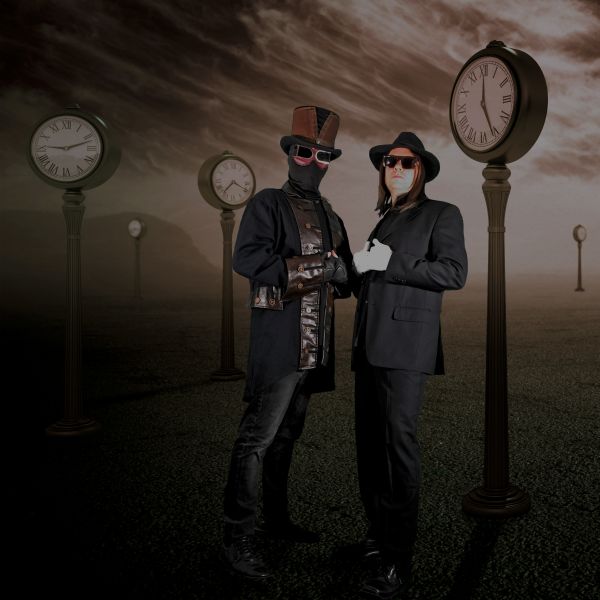 8 January 2019
ShapeShiftingAliens – Photo Credit: Niklas Rundquist
With Stockholm essentially being Europe's capital in terms of the amount of music released annually, it should come as no surprise that Sweden produces a ton of music every year. But, of course, some is always better than others. Today we have the pleasure of indulging in (and sharing) some of the good stuff.
Namely the latest single from the utterly addictive electronic alt rock duo ShapeShiftingAliens consisting of vocalist Johan Cléve and instrumentalist Niklas Rundquist, also known as solo artist Brainshadow. Together, they create music and unusual and eccentric videos.
Darkly lush and mesmerizing, "Fade Away" follows up their latest video for "Showing My Face", which released earlier in 2018. On the anniversary of David Bowie's birthday, this song ought to bring joy to many who will feel a clear element of his sound right within this new track. But dig deeper and you'll also find elements of The Mission, Angelo Badalamenti, Brian Eno, and Ashton Nyte of The Awakening.
"Fade Away" is the second single off the band's self-titled album ShapeShiftingAliens, which will soon get a CDrelease via Stockholm-based label The Sublunar Society. This song begins with an eerie, apocalyptic air and spooky whispering and then radiates a dark electro euphoria that these two musicians launch upon their unsuspectingly audience. Exacting, impeccably performed, and captivating, ShapeShiftingAliens deserve your full attention. Add because the video is equally brilliant, you should add this to your first 2019 listening and video playlists.
"Fade Away" is about a civilization and a world on the verge of collapse as a result of the endless drive for greed and power, but this song is also about the temporary nature of everything nowadays. The accompanying video perfectly reflects this theme. Niklas Rundquist created, produced, and directed the video, hauntingly bringing the lyrics of this dystopian song to life.
ShapeShiftingAliens signed to The Sublunar Society in 2016. They have since released several singles, followed by their full-length ShapeShiftingAliens LP. ShapeShiftingAliens' inventive approach was noted by Nolan Cook of The Residents, leading them to collaborate on "Shadows", the final track from their debut album.
Rundquist and Cléve met when they were working with Iodine Jupiter. Cléve is a producer, composer, and a live and studio musician (guitar) for film, as well as touring and performing artists. Inspired by various film music composers and especially horror films, their music has also been influenced by David Bowie, Lou Reed, Goldfrapp, Air, Radiohead, Smashing Pumpkins, and Massive Attack.
Niklas Rundquist / Brainshadow collaborates with other artists as an electric violinist, remixer, and mastering engineer. Most recently, he cooperated with Big Paul Ferguson of Killing Joke and Mark Gemini Thwaite (GMT, The Mission, Gary Numan), Lima 13, and Sonisk Blodbad. He is also a member of The Leather Nun, whose history runs back to the 1980s. He also composes music for films, documentaries, and commercials, and various artists on the London scene.
The Sublunar Society is a record label and publishing company, founded by Marie Lundvall and Peder Bjoerk in 2013. Sublunar releases music and publishes literature for the international and national markets. The company also produces exclusive limited edition art products for collectors. The guiding spirit behind The Sublunar Society is one of artistic freedom and creative exploration beyond the conventional.
"Fade Away" single is now available across online stores and streaming platforms like Spotify, as well as Bandcamp. While the ShapeShiftingAliens album was released digitally, it will also soon be released as a physical CD via The Sublunar Society.
LYRICS
Everything will fade away with time
Days are counted, now don´t look behind
A new world order stained and tagged in grime
Illusions trapped when our religions disappear
The flight of footsteps, am I sure they´re mine?
Don´t fall asleep, you might be next to be aware
Everything will fade away with Time -
There´s nothing to do but get on with life, not do what you´ve been told
Days are counted, now don´t look behind -
Fate´s tailing our footsteps, hunting us down until we´re dead and cold
My days are haunted, yet I´m feeling so alone
Illusive pictures flickering in a twilight zone
In my dreams you show up as a white clad bride
Her plea is of confusion, and guess what, so is mine
Everything will fade away with Time -
There´s nothing to do but get on with life, not do what you´ve been told
Days are counted, now don´t look behind -
It´s tailing our footsteps, hunting us down until we´re dead and cold
I know my world has fallen down, my life has gone berserk
I must have died a thousand times, but never, ever open-eyed
Do also check out several other videos from ShapeShiftingAliens because well, they are that good.
ShapeShiftingAliens at The Sublunar Society
Facebook
Twitter
iTunes
Spotify
comments powered by