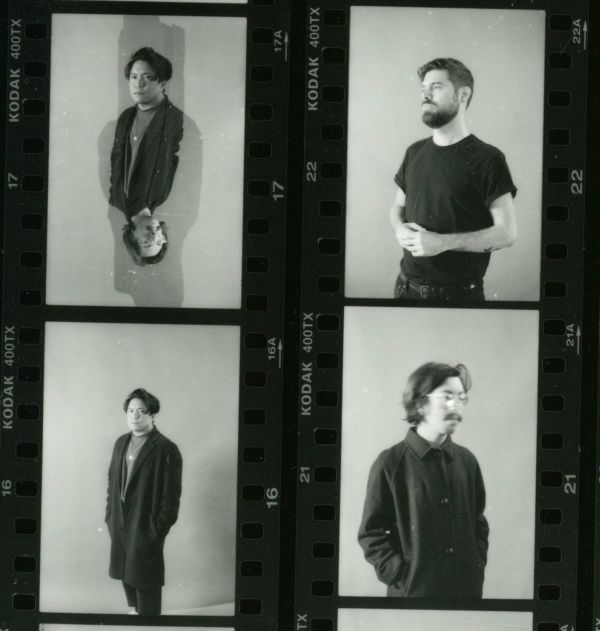 10 December 2020
Topographies – Photo Credit: Soen Settanni
Topographies is a post-punk/shoegaze band formed in 2018 in San Francisco by Justin Oronos, Jeremie Ruest, and Gray Tolhurst. Their debut album, Ideal Form, arrived on December 4th via Funeral Party Records.
The LP synthesizes and clarifiesTopographies' aesthetic in eight drum-machine and synth heavy tracks, accompanied by Ruest's ethereal guitar work, the nimble basslines of Oronos, and Tolhurst's poetic lyrics. Ideal Form was engineered and produced by Chris King (also a member of LA-based band, Cold Showers) and mastered by Rafael Anton Irisarri at Black Knoll Studios in New York.
Tolhurst (whose early exposure to music came from his father Laurence Tolhurst, drummer/keyboardist of The Cure) draws on his dual fascinations of independent music and 20th century poetry to craft songs and lyrics that seek to explore the complex map of occurrences that situate and shape a life.
The band merges the lockstep rhythms and pulsing synths of '80s coldwave and post-punk (taking cues from bands like Asylum Party and The Chameleons) with the lush guitar work and hazy textures of shoegaze and dreampop.
Topographies has shared stages throughout the US with contemporaries Soft Kill, Tennis System, Fearing, and Be Forest, and has released two 7" records (including one on venerable British label Sonic Cathedral), as well as a cassette EP, Difference and Repetition, through San Diego's DREAM Recordings.
Big Takeover is pleased to host the premiere of the mysterious video for the atmospheric track "False Desire" from Ideal Form.
The black 'n' white format music video was directed by Julian Gabriel Bendaña and features the band members' faces in close-up. Their visages are impenetrable, emotionally, as they stares out at the the camera lens.
Images are shot at different angles and are slowly and partially obscured by curls of smoke and various lighted geometrical designs.
The soft, yet bright glow of tunnel lights passing by, illuminating their countenances in the darkness, with cryptic gazes feeding into the coolly detached nature of the track.
The band add some insight to the video, commenting, ""Inspired by the paintings of Kandinsky, early 20th century abstract films, and the work of Sergej Eisenstein l, Julian Gabriel Bendaña's video for "False Desire" explores the "self-portrait as landscape," probing the mask-like expressions of Tolhurst, Rüest, and Oronos for the minute movements that trace a topography of desire."