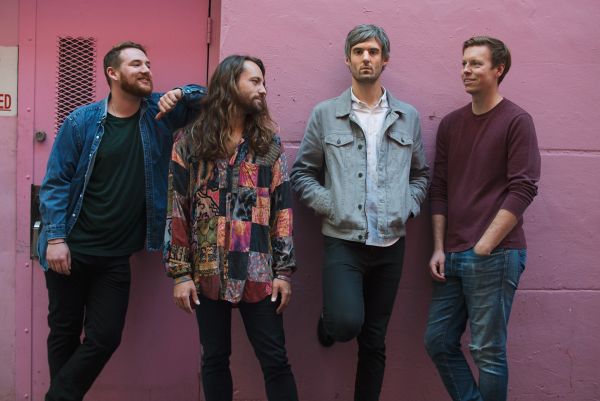 5 March 2019
Kin Kanyon – Photo Credit: Kassandra Tomczyk
The band Kin Kanyon comes from the West Coast of Canada and they play soulful, dynamic psychedelic rock. Their second EP, Relics Left Behind just released last December, but the group are already setting up to drop their third EP, Trace of Love, on March 22nd.
Kin Kanyon's sonic landscape contrasts completely with the overcast region they come from. With blinding-bright riffs, wistful vocals, and a rhythmic backbone, their music will envelope you in a kaleidoscope of sound.
Before the new EP arrives, the band members, Dan Rocque (guitars, organ, vocals), Ed Budden (bass, vocals), Matt Harvey (guitar, vocals), and Chris Rowntree (drums), are gearing to release captivating lead single "Fauxtown" officially on March 8th.
The Big Takeover is psyched to host the premiere of the video for "Fauxtown". The track is a melodically bustling success that shows Kin Kanyon producing some of the most exciting, upbeat, psych-rock sounds today. Hypnotic guitars and active rhythms comprise the verses, leading into a chorus with vocal effervescence leading a striking hook. The bridge also excels with striking guitars, organs, and frantic percussion.
The video for the rolling, old-school groove of "Fauxtown" is a disco-infused throwback to '70s retro-cinema, fueled by cool dance moves and questionable polyester threads. Dig it!
Website
Facebook
Instagram
Bandcamp
comments powered by