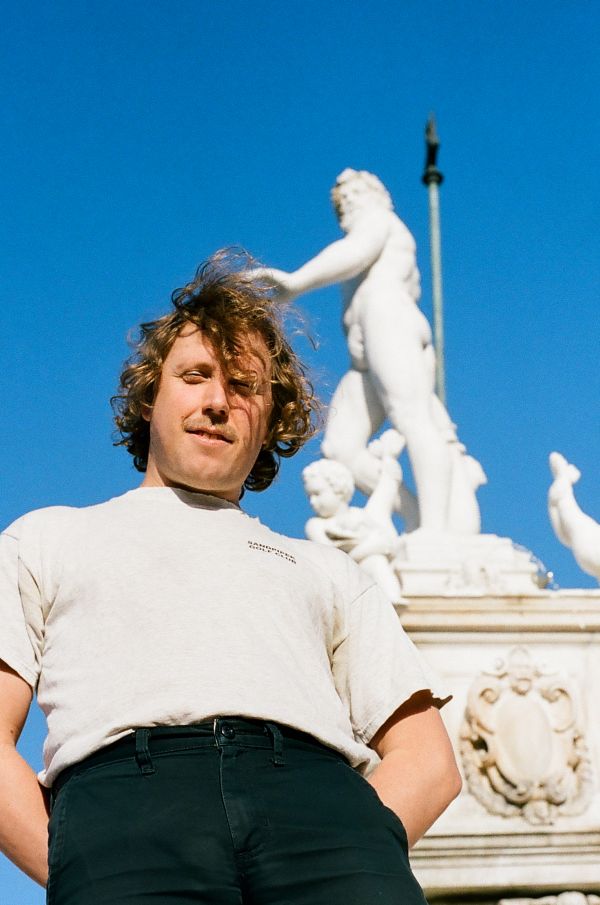 4 February 2021
Adult Books – Photo Credit: Tony Accosta
Adult Books is the brainchild of Los Angeles-based writer and multi-instrumentalist Nick Winfrey. With the help of childhood friends Sina Salessi (drums) and Alex Galindo (guitar/synth), Winfrey crafts lyric-driven dark pop gems that recall the hook-filled guitar work of Johnny Marr, the hot-around-the-collar angst of Mission of Burma, and the doomsday siren call of early Echo and the Bunnymen.
After a well-received string of bedroom demos and cassettes, Adult Books released their first full-length album, Running from the Blows, in 2016, trading in their previous home-recorded sounds for a cleaned-up act that allowed Winfrey's pop savvy and understated lyrical wit to shine through. Two years of heavy touring followed, after which Winfrey found himself both burned out and uninspired by the business of music.
Following a much-needed hiatus, Adult Books is finally ready to share their second LP, Grecian Urn, which will be released on April 26th via Taxi Gauche Records.
Recorded with Jonny Bell (Crystal Antlers) and mastered by Dave Cooley (Animal Collective, J Dilla), Grecian Urn was crafted over the course of nearly two years; however, the seeds of the album were sown more than a decade earlier. When sitting down to write Grecian Urn, Winfrey revisited old demos, forgotten voice memos, and unfinished fragments of songs to create something wholly new.
The end result is a self-assured and intensely personal album that places Winfrey's evocative images and economic storytelling approach front and center. A loose concept album of sorts, Grecian Urn draws on classical Mediterranean imagery and mythos as a means of exploring Winfrey's past traumas and struggles with chronic anxiety. While the album itself may be focused on histories both large and small, Adult Books once again seem to have their eyes set on the future.
Big Takeover is pleased to host the premiere of the engaging music video for the breezy indie popper "Florence," taken from the album.
Listeners are whisked away on brisk guitar strum, running bass line, and fast-smacked drum beats touch with shimmering cymbals crash. Winfrey's slightly wistful vocals and lyrics are both casual and steeped in nostalgia, and he's occasionally backed by soft female harmonies on the restless track.
The video is delightful whirl through artwork (mainly classical marble statues) and airports found in Los Angeles, that somehow generates an international-voyage feel through the use of footage of airplanes taking off and landing, sandy beaches, green palm trees, the aforementioned sculptures, and the not so subtle (but amusing) addition of a background image of the Leaning Tower of Pisa.
"Florence" was inspired by time Winfrey spent in Florence, Italy, several years back. The track is a deep dive of exploring the anxiety and insecurity of entering a new relationship, and how those feelings are compounded being far from home in an unfamiliar place. He was on the verge of entering a relationship with someone very far away at the time, combined with the experience of being in a foreign city all alone, it magnified his sense of uncertainty and anxiety that often accompanies getting to know a new person.
He remembers walking around the city for hours and feeling the weight of its history very intensely. "The city center is this network of narrow alleyways, and in the late afternoon, the streets have a smoky orange glow and the old stone buildings reverberate with the echoes of indistinct voices. It felt incredibly beautiful yet also incredibly lonely," shares Winfrey.
About the video, Winfrey comments, "Traveling back to Florence was obviously out of our budget and out of the question, so I decided to go a completely different route and make it a full homage to LA – the incongruous mix of oceans and industry, airplanes and palm trees. For that, I turned to South Bay guru Tony Accosta. His love of the city is palpable, and driving around to different spots with Tony was a lot of fun because he always makes it a bit of a history lesson."
Pre-Order Grecian Urn
Instagram
Facebook
Twitter
Website