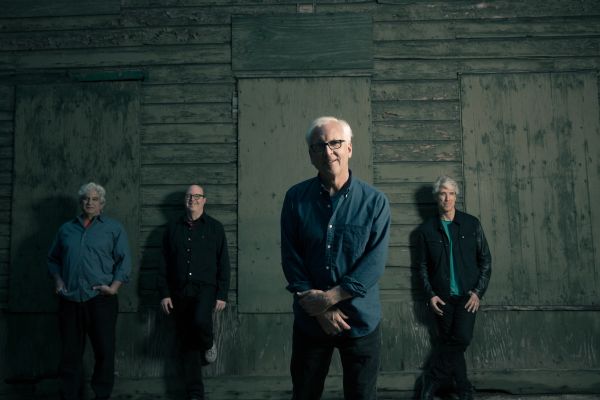 16 December 2020
Glenn Morrow's Cry For Help – Photo Credit: Mark Zawarski
Veteran musician and record label owner Glenn Morrow and the band he records with, Cry For Help, are set to release their second album, Two, on December 16th via Rhyme & Reason Records, digital download, and streaming platforms
Like many music-makers in the current climate, Glenn Morrow's Cry For Help needed to find a way forward for their follow-up to their warmly received 2017 debut album. The Bar/None Records owner (Since 1986!) and his band of indie alumni had an album recorded and ready for release just as a pandemic brought the world to a halt.
With an excess of hope and new context for considering the songs, Glenn Morrow's Cry for Help are getting their music across through all avenues, from a traditional record label to digital platforms. Two finds Morrow contemplating the current cultural climate with many tracks clearly influenced by the Trump era.
It's an album of hooks-filled rock 'n' roll songs with bandmates— drummer Ron Metz, bassist Mike Rosenberg, and lead guitarist Ric Sherman —all music industry lifers, adding doses of the post-punk and New Wave they were surrounded by as they made their first marks on the music world in the '80s scenes of Hoboken and New York City.
Two was produced by Ray Ketchem (Guided By Voices, Luna, Elk City) at the Magic Door in Montclair, New Jersey, who gives the songs a welcoming modern shine. Lead single "The Other Side of the Dream" is newly remixed by Morrow's old friend Chris Stamey of The dB's and features backing vocals by talented North Carolina songwriter Rachel Keil. The track introduces the record with hints of the influences to expect throughout: '60s AM radio, power pop, and '70s glam-leaning rock.
Big Takeover is pleased to host the premiere of the amusing slacker video for the engagingly laid-back "Forever and a Day." The song is a refreshing island-pop reverie with Morrow's gently wistful vocals floating over the copacetic sonics (lightly gleaming guitar strum, rhythmically swaying pace, shaken sand percussion, thumping hand drums).
Ellie Kitman photographed and filmed the black 'n' white music video for "Forever and a Day." She showcases the casual shenanigans of a handful of her friends hanging out in her studio.
Each friend is introduced at the start of the clip as representing a member of Glenn Morrow's Cry For Help and Kitman has a sharp eye for capturing editorial-worthy images of her rambunctious crew. They pose for the camera, sometimes with props and sometimes just mugging in front of her all-seeing lens.
Kitman comments, "I had done some work for Bar None Records and Glenn liked the photos I had on my website and Instagram (at "bigturnoff")."
"There was no narrative arc driving this video. I provided pizza, beer, and cigarettes to my close friends – all in my 'pod,' for COVID safety purposes – and documented the results."
"My typical photo practice revolves around the documentation of my friends and their hijinks to which I'm certainly not immune. This was an opportunity to translate these antics to video with loose to nonexistent direction. "Forever and a Day" is a love song and my video acts as a love letter. "
Glenn Morrow's Cry For Help at Rhyme & Reason Records
Facebook
Spotify