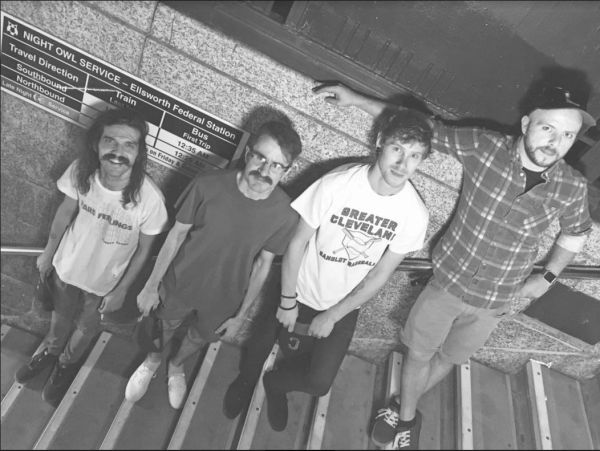 28 March 2019
Harvey Pekar – Photo courtesy of Harvey Pekar
Steadfast Records will release the latest album, Paris Green, from Cleveland's Harvey Pekar on May 17th. Paris Green is a collection of seven thoughtfully brutal new songs produced and engineered by Ryan Foltz at Cleveland Audio (Dropkick Murphys, Rancid).
Harvey Pekar help anchor a thriving hardcore punk scene in a city with storied and legendary roots in punk rock and hardcore (Integrity, 9 Shocks Terror, Dead Boys, etc.), and continually explicate and break through the confines of both genres.
Paris Green builds upon the foundation of the band's first two LPs (2016s The Astral We and 2013s Upward, Not Northward), sounding both instantly familiar, and refreshingly new.
The band mirrors the modus operandi of their namesake, acclaimed comic book writer and Clevelander Harvey Pekar, who claimed, "It's about staying alive. Getting a job, finding a mate, having a place to live, finding a creative outlet. Life is a war of attrition. You have to stay active on all fronts. It's one thing after another."
Harvey Pekar, the band, have spent the past six years honing their craft on the road, touring extensively throughout the U.S. and Canada – sharing the stage with such bands as Defeater, A Wilhelm Scream, Code Orange, Such Gold, Idles, Birds in Row, and Knocked Loose. They were also recently tapped as one of four recipients of a 2019 Panza Foundation grant.
The Big Takeover is mighty excited to host the premiere of the hard-charging and abrasive "Forever the Follow." The restless track attacks with serrated and burning guitar lines, a manically moving bass line, and hyper-kinetic drum strikes. Vocalist Nick Kratsas passionately proclaims the lyrics, cathartically releasing his emotions into the sonic turmoil.
Kratsas explains the meaning of the song's lyrics, stating, ""Forever the Follow" begins with an ascent after death, a return to the primordial, and the subsequent rains of renewal. A cyclical storm to which we must always surrender, though it grows upon accumulating echoes."
In support of Paris Green, Harvey Pekar will be touring extensively throughout the summer of 2019.
Pre-Order Paris Green at Steadfast Records
Cleveland Record Release show June 1st with Minority Threat, Pillärs, Heart & Lung