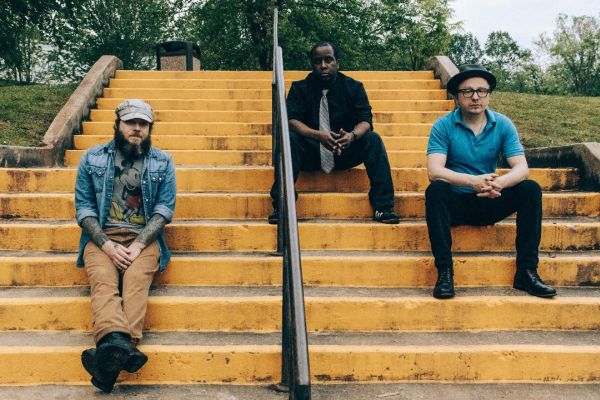 8 July 2020
Young Antiques – Photo Credit: Jeff Shipman
Young Antiques' latest, Another Risk of the Heart, their first album in nearly a decade, is a bold reaffirmation of purpose, an impassioned, hook-laden love letter from singer/guitarist Blake Rainey — to his bandmates, Blake Parris (bass, backing vocals) and John Speaks (drums), and to the act of making rock 'n' roll itself.
Rekindling the musical flames, as the Atlanta, GA-based cult trio's line-up reunites, Rainey comments, "Here we go again. We're giving this thing another shot. Getting back together, doing what we do best—having fun, making records."
The jangle/power pop band's new video for "Goin' Home," a heartfelt track which features Kelly Hogan (Decemberists, Neko Case, The Rock*A*Teens), makes a relevant statement about being alone… together
Big Takeover is pleased to host the premiere of the video for "Goin' Home." The song is a duet and a pensive roots music rumination on aging, taking the form of a ballad about veteran musicians who finally decide to get off the road and put down roots.
The performance video clip for "Goin' Home" features the Young Antiques and Hogan, each beamed remotely into their own vintage TV set. It was actually conceived pre-pandemic as a commentary on contemporary social media-fueled isolation and loneliness.
But now, with most of the country having been under quarantine, it feels particularly prescient with the band psychically tapping into our strange new reality of live-streams and Zoom meetings just before they became such an entrenched part of our lives…
"I was talking to director Jeff Shipman when I had the idea," Rainey says. "We're all broadcasting in from different places. And now the whole thing suddenly feels very of the moment, like we tapped into this new reality in advance."
""And in the wake of the pandemic, who knows what's going to happen?" Rainey continues. "It makes getting back together with the Young Antiques even more special. If we hadn't done it when we did, who knows if it ever would have happened again?"