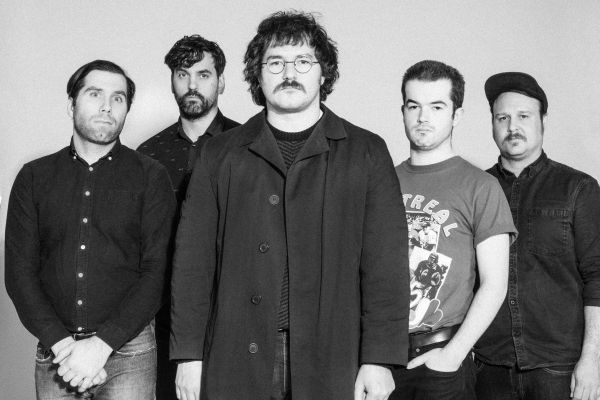 25 February 2019
PRIORS – Photo courtesy of PRIORS
Montreal-based garage-punk 5-piece PRIORS unleashed an explosive second album, New Pleasure, last year and have quickly followed that up with the recent Call for You EP that blasted out in early February via Slovenly Recordings.
The Big Takeover has the, ahhh…, extreme pleasure of hosting the premiere of the video for "Got In Me", a moshpit-ready single off New Pleasure that also appeared on the Pentagon Black Compilation No. 2 record.
As to be expected from the fiery and fuzzed-up band, the agitated "Got In Me" all sonic distortion, jet propulsion, and wild exclamations. A rapid-fire stomping rhythm zooms forward at break-neck pace, while guitar jags slice 'n' dice the track to pieces. PRIORS will pound you into the ground – and you'll be grinning with exultation all the while.
The video showcases the band members bashing away at their instruments amid flashing red and blue lights. The video is grainy, like some dug-up archival footage from back in the day, at times going in 'n' out of focus or slightly bleaching out the image from the bright light.
Frontman Chance Hutchison clues us in to the vibe they were going for with the visuals, explaining, "We tried to steal the vibe from [recent Nicolas Cage movie] Mandy after seeing how insane that movie looked. We're broke, so it didn't really turn out that way but we had fun doing it. My friend Jeff Edwards filmed it and he's the best!"
PRIORS Facebook
PRIORS Instagram
PRIORS Bandcamp
SLOVENLY RECORDS Website
SLOVENLY RECORDINGS Bandcamp
comments powered by