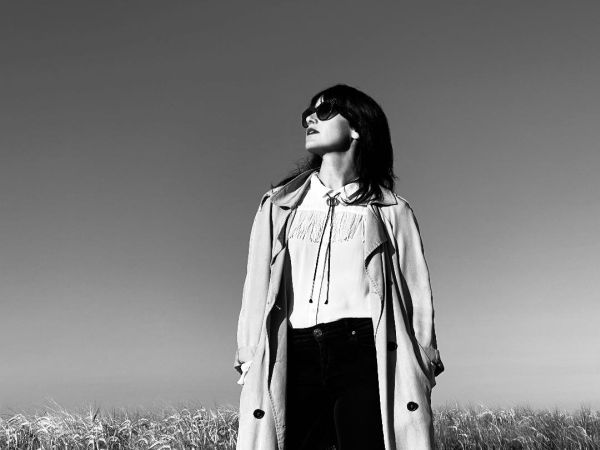 19 October 2020
Juanita Stein – Photo courtesy of Juanita Stein
Howling Bells frontwoman Juanita Stein is readying to release her third solo album, Snapshot, this Friday, October 23rd via Handwritten Records in the U.S. It will be available on CD, vinyl, and all streaming platforms. You can preorder/pre-save the LP HERE
Stein has been dropping a few videos for the singles off her full length, with all the clips being shot under lockdown circumstances during the pandemic. The video for "Hey Mama" is Stein's fourth music video in support of her new album.
Big Takeover is pleased to host the premiere of the quietly compelling performance video for "Hey Mama," a reflective and poignant track.
Stein sings and plays the guitar while under quarantine, standing on the deserted streets of small town in France. She's bathed in the warmly glowing light of a streetlamp that wards off the darker shadows of the night. The video is direct in its set-up, with the camera lens slowly moving forward to get closer to Stein as she performs the song.
Snapshot was written in the wake of the sudden death of Stein's father last year and the themes of the album explore the different stages of grief.
Stein reveals some details about the song and video, explaining, ""Hey Mama" feels like the anchor of the record. Written whilst in a particularly vulnerable place, it captures all of the feelings for me. The video we made for it, has me standing alone on a quiet lane in a small town in the South of France. Nothing but the warm hue of the lamp above me and the many stories I'm sure which are contained within the stone walls and cobblestones beneath my feet. This song is me asking questions, is me pondering the present moment, is me balancing the scales of grief. So the video needed to reflect that moment of deep solitude."
Website
Facebook
Twitter
Instagram
Spotify