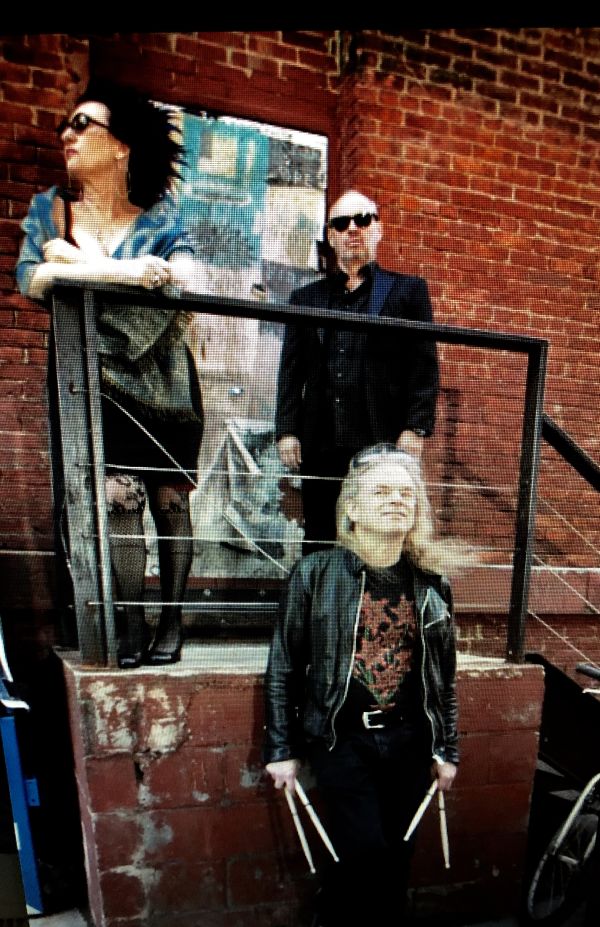 9 December 2019
Disturbed Furniture – Photo Credit: Joe Rodman
An integral part of the vibrant arts and music scene that animated the storied downtown NYC venue Club 57 (1978-1983), the band Disturbed Furniture reunited some two years ago to perform live and record new music.
The first release of this new chapter in their career is Continuous Pleasures, a five song EP, which was produced by Jorge Arévalo Mateus, Alexa Hunter, and Mick Oakleaf, recorded at Mighty Toad Recording and The Honey Jar in Brooklyn, with additional tracks done at Blighty Music Studios in Los Angeles.
Continuous Pleasures features new compositions as well as fresh recordings of some of the group's original repertoire. The Big Takeover premiered the EP this past August, so definitely have a look and take a listen to that HERE
The impetus to reactivate Disturbed Furniture came from MoMA's major 2017 retrospective, documenting the band's old stomping ground, Club 57: Film, Performance, and Art in the East Village, 1978-1983. After meeting with the curators, lead singer Alexa Hunter agreed to contribute the group's music videos and their 45's cover art to the exhibition. MoMA not only acquired Disturbed Furniture's music videos proper, but also a series of Hunter's Super 8 films and other footage shot in 1979.
Hunter began tracking down the original members still living in NYC and assembled a line-up featuring Mateus on guitar, Oakleaf on drums and special guest, Shin Sakaino on bass. They began playing select live dates, writing songs, and recording.
Thirty-five years ago, Disturbed Furniture cast a large shadow on New York's underground club scene, sharing stages with many now iconic local, national and international acts including the Psychedelic Furs, Stranglers, The Waitresses, and the GoGo's, toured regionally, released well-received music and videos.
The band merged art world and punk sensibilities with the grittier dance aesthetics of the progressive Funk of Parliament/Funkadelic, Prince, and so on. Hunter and company's performances were informed by both the noir cabaret vibe of the East Village scene and the sensuality of contemporary urban sounds. They offered an alternative to the dogmatic shabbiness of NYC's post-punk scene as well as the banal excess that uptown disco culture settled into.
The Big Takeover is pleased to host the premiere of the new video for "Hit or a Miss," which features vintage footage of the band from 1979. It's quite a time capsule for street style, as well as the brazen punk attitude in both song and image. Sharp, pushy drum beats, wiry guitar angles, and dirty bass line and Hunter's direct and defiant vocal all propel the song forward, as vibrant and relevant now as it was in the 1970s.
Alexa Hunter reveals interesting details about the vintage video material, explaining, "The footage for this video was shot in the very early morning in Chinatown, New York, in late '79 when the band was just forming. It predates MTV. There were very few bands making videos then but I had aspirations to direct films and fortunately a dear friend, Geoffrey O'Connor, a very accomplished, academy award nominated filmmaker, was just beginning his professional career and owned a video camera. He and I had been roomates in London in 1977, and had bonded over the love of French New Wave cinema. Geoff's cinematography for the video reminds me of early Godard."
"The cast, club kids/friends who had been up all night at the Mudd Club, included 3 members of early Disturbed Furniture: bass player Tony Zebe, guitarist Stephanie Hameon, and drummer Yves Mougard, (who was only in the band for 3 months)."
"Because of very limited financial resources, I never got around to editing the video. The band's members changed. And the band never recorded the song intended for the video, "Hit or a Miss." But in 2017, when the Museum of Modern Art in New York was curating Club 57 Film, Performance, and Art in the East Village, 1978–1983, I contacted Geoffrey to see if he still had the footage. Amazingly he did. I edited a version with a friend out here in LA, Gillian Cameron. The museum acquired it for the show and it's is now in their permanent collection. The band, Jorge Arevalo, Mick Oakleaf and Shin Sakaino, did a great recording of the song at long last in 2018 and it's on the new EP!"
"I have 30 mintues of footage from that cold morning in 1979 and I am hoping use some of it to make a short documentary about those early days. And this time I won't wait three decades to do it."