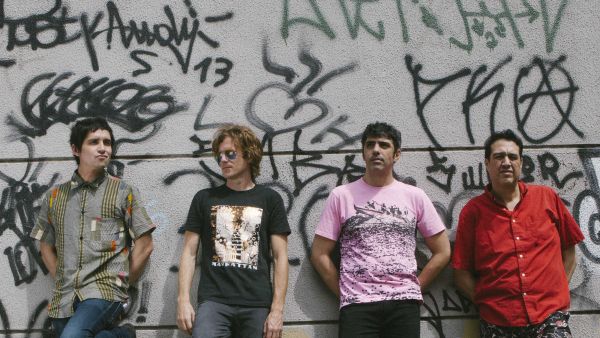 5 March 2019
Your 33 Black Angels – Photo Credit: Helena Wolfenson
Some have argued that New York is a self-contained city – that that, for anything you might ever need, you could get it within the confines of this city and would not lead to look afar. If music is any indication of that, today Your 33 Black Angels (a.k.a. Y33BA) provides a rich earful that would fully satisfy your aural sensory needs. These are stalwarts of the local music scene, but they also tour a fair bit, having also just returned from a lengthy tour of Brazil.
The NYC-based collective will soon release their new album Eternities I in early May. Before their seventh record sees the light, we have the pleasure of introducing you to the lead track "Hott Funn". This is dark electric frenzied New Wave space-rock, blasting by like a fiery and unexpected sonic guest, clearly defying genres and interacting with cosmic messengers, as you'll see in their new video. They produce elegant, vibrant melodies with strange, novel sounds. This is the New Age underground for the End Times.
The video for "Hott Funn" uses computer animation to turn the band into naked, gray aliens in human form with laser beam-green eyes. They perform in the vast darkness of space, a programmed intergalactic band, that runs on quirky electronics, synths flourishes, and the relentless drive of bass line and drums. Vocals are dispassionate, yet still hold a human quality – maybe it's the occasional quiver of the vocal chords, or slightly anxious emotional tone. Maybe space aliens are like humans after all…!
Recorded over three years and more than 60 studio days with endless mixes in the making, Eternities I is 13 tracks that are built to stand tall as the culmination of Y33BA's labors. Their sounds take in a wide range of influences with various songs sounding in the realm of Spiritualized, Blur, The Pastels, Happy Mondays, and Dirty Projectors.
We find many variables there that they've surpassed to arrive at this current single – Paisley Underground, synthwave, field recordings, minimal electronica. Bands that come to mind include LCD Soundsystem, early non-commercial Foals, and perhaps Taxi Girl and Granville, with a top coating of awesome warbly vocal textures reminiscent of David Byrne of Talking Heads.
Y33BA 's wordsmiths have always been an equal part poetry fans as well as lyricists, so the Poesia Concreta of Augusto de Campos or Guillaume Apollonaire may have as much an influence as wonderful lyricists like Neil Hannon, Bjork, or Serge Gainsbourg. Breaking rhythms and broken meter match the polarized sounds from start to finish.
Formed in 2003, Y33BA debuted with the album Lonely Street in 2007, which was a vinyl-only limited edition. Once the initial pressings sold out, Y33BA released the album on CD and digitally. They followed up with Tales of my Pop-Rock Love Life (2008), Pagan Princess (2009), Songs from the Near Bleak Future (Optical Sounds, 2010), Moon and Morning Star ( Optical Sounds, 2012) ,and Glamour (2015).
The band has have played over 500 shows across Europe and North America, sharing the stage with some rather fine acts during recent tours. The Monochrome Set selected Y33BA as direct support act for its first New York City show in 30 years. La Femme, The Veldt, and Dyr Faser have toured or shared many nights with the group. The band has also played with King Tuff, Blitzen Trapper, Suuns, Six Organs of Admittance, Blonde Elvis, B-17, and We Melt Chocolate.
Y33BA Eternities 1 is slated for release on May 7th and will be available across digital stores and streaming platforms. It can also be pre-ordered via Bandcamp
CREDITS
Recorded at Big Coin Studio, New York (2016-18) and Big Mazel, L.A. (2017)
Recorded by Dan Rosato
Produced by Dan Rosato and Josh Westfal
Dan Rosato (vocal, guitar, synth, percussion)
Josh Westfal (vocal, guitar, synth, percussion)
Daniel Bombach (bass)
D.A. Stern (drums)
>
Also check out some of their past output to demonstrate the wide spectrum of their musical flexibility:
Y33BA
Facebook
Bandcamp
Twitter
Instagram
SoundCloud
Spotify
iTunes
comments powered by