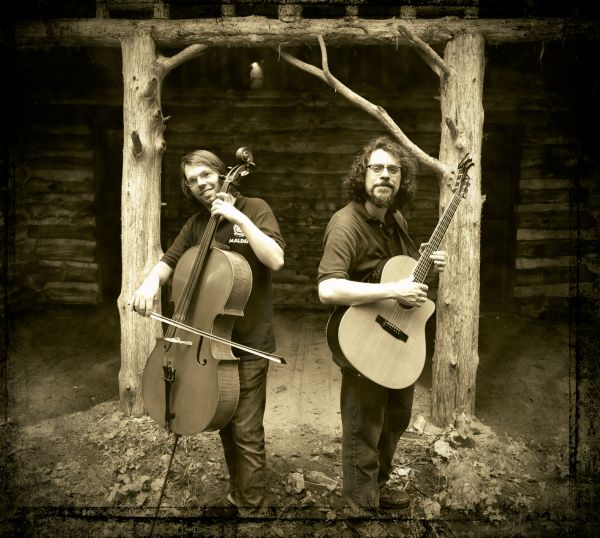 3 November 2020
Aaron Nathans & Michael G. Ronstadt – Photo courtesy of Aaron Nathans & Michael G. Ronstadt
The alt-folk duo Aaron Nathans & Michael G. Ronstadt released their potent new album, Shadow of the Cyclone, on October 1st. And what metaphor for the past year serves better than standing in the shadow of an approaching cyclone?
Philadelphia-based guitarist and songwriter Aaron Nathans and Cincinnati-located cellist and songwriter Michael G. Ronstadt (nephew of renowned Linda Ronstadt) weave intricate cultural themes with sobering, and at times hopeful, clarity on their new LP, taking advantage of Ronstadt's adventurous and wildly creative technique on cello to face our shared disaster head-on.
As an acoustic duo, the two create a compelling musical palate. Ronstadt's cello lines are reminiscent of the live-layered magic of Zoe Keating, and his songwriting reflects the creative diversity of Paul Simon. He spins intricate patterns around Nathans' baritone voice and studied folk meters in the tradition of David Wilcox and Dar Williams.
As multi-instrumentalists the two play a total of 33 distinct instruments between them, while they are joined by guest musicians Serenity Fisher on piano, Stan Ginn on drums, Phil Henry on backing vocals and percussion, and Ciara Grace on backing vocals.
Shadow of the Cyclone brings in fans of folk, Americana, and singer-songwriters who are seeking refuge from the storm that 2020 has unleashed upon us.
Big Takeover is pleased to host the premiere of the performance video for the foreboding socio-political missive "I Go Low," that is perfectly timed for this fraught Election Day in the United (or is that Divided?) States.
What once was a time of hope and taking the respectful high road during the Barak Obama era has devolved into the undermining of democracy, freedom, rights, and protections under the destructive thumb of Trump and his administration.
Lies, bullying, and breaking of the rules/laws – and just plain inanity and insanity – with no consequences, are now the norm for the White House, and that's trickled down to poison our whole culture.
And so Nathans and Ronstadt come in, fighting fire with fire, lyrically at least, as Nathan intones in a deep-as-a-well voice, "To stop a bully in his shoes / sometimes you've got to be a bully too / I've gone high but now I know / I get by when I go low."
It's a bleak assessment of we're we're at now as a country, but the strong sentiments are leavened by the glistening acoustic guitar lines from Nathans and Ronstadt's soft and sweet pull on the cello, with the occasionally knocking on the front of the instrument to create an upbeat rhythm.
Aaron Nathans & Michael G. Ronstadt Website
Aaron Nathans Website
Michael G. Ronstadt Website