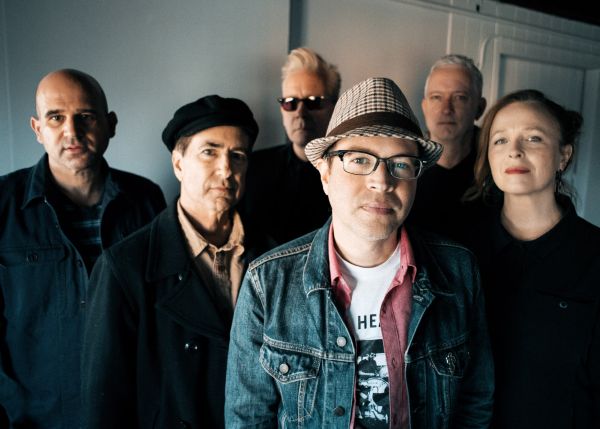 23 March 2020
The Bye Bye Blackbirds – Photo Credit: Scott Evans<small.
The Bye Bye Blackbirds (Bradley Skaught, Aaron Rubin, Lenny Gill, Joe Becker, KC Bowman, and Kelly Atkins) have been gold standard-bearers for harmony-laden guitar rock in the Bay Area for nearly 15 years. Their latest album, Boxer At Rest, arrives on April 24th.
The LP was produced by the renowned Doug Gillard (member of Guided by Voices, Nada Surf, Cobra Verde, Gem, more) and recorded by veteran singer-songwriter Chris von Sneidern at legendary Hyde Street Studios in San Francisco.
The song "If It Gets Light" is the standout centerpiece of the record – a visceral, crackling epic calling to mind The Dream Syndicate, The Velvet Underground, and Outrageous Cherry. Big Takeover founder Jack Rabid has this to say about the track: "It's a hypnotic eight-minute monster guitar-fest with gentle harmonies."
Big Takeover is stoked to host the premiere of the accompanying psychedelic video for "If It Gets Light," which was directed by Camper Van Beethoven's Jonathan Segel (who's no stranger to visceral, crackling epics).
The video captures both the white-hot intensity of the song's extended guitar freak-outs as well as the starker, moodier verses whose timely lyrics reflect urban anxiety and a struggle to find emotional equilibrium in times of stress and loss.
Dazzlingly saturated, lava lamp-like hues (ultraviolet, infrared, neon green, scorching orange, blazing magenta, searing blue, bleached white) color the footage of the band members performing, while at times bright, kaleidoscopic designs forming intricate patterns are intercut with the band doing what they do best.