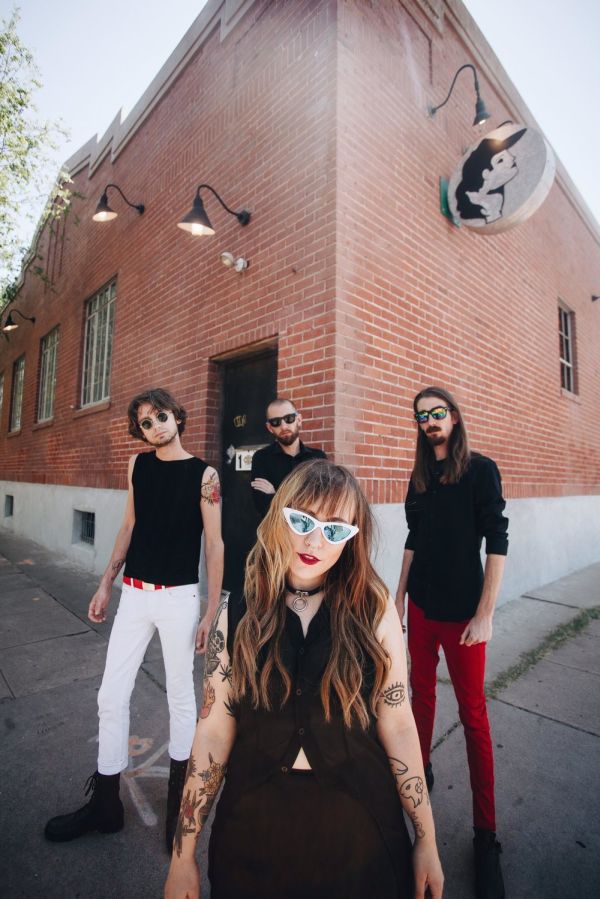 28 November 2018
Left to Right: Robert Ciuca, Matthew Foos, Chelsey Louise, Ben Foos – Photo Credit: Marisa Silva
Fairy Bones is back – and they're having 0% Fun.
After surviving 2017, Fairy Bones reemerged this year battle-hardened and a little less mentally stable with their triumphant second album, 0% Fun. Taking the 'sophomore slump' in stride, the Phoenix-based, brash, catchy, and powerful pop-rockers made sure not to disappoint everyone this time around.
If Robert Ciuca (guitar), Matthew Foos (drums), Chelsey Louise (vocals, guitar), Ben Foos' (bass) debut album Dramabot from 2015 was a doe-eyed freshman eager for experiences, then 2018's 0% Fun is the debt-ridden graduate, desperately laughing through the chaos of modern existence.
After three years of lighting up the stage as support for acts like Highly Suspect, St Lucia, Marcy Playground, Fuel, Mother Mother, Rozwell Kid, and KONGOS, Fairy Bones was ready for a new approach to being the punk rock underdogs of the digital age, which is on brilliant displayed in their DIY music videos, marketing, independent tour booking, style, and imagery.
What began as a lyrically intimate dissection of personal thoughts and feelings, the new album quickly took on an upbeat and often wildly sarcastic look at one woman's journey through her twenties. Touching on themes of anxiety, depression, and the pressures of maintaining the perfect Instagram-facade 0% Fun inadvertently echoed the same thoughts and feelings felt around the nation throughout 2017 – and which continues even to this day.
Fairy Bones released 0% Fun on February 23, 2018 and it's available now wherever music is sold. Catch them touring nationally throughout the year.
Vocalist and guitarist Chelsey Louise digs into the meaning behind "I'm Fine" and its cool accompanying video:
""I'm Fine" ends our sophomore album, "0% Fun", and I wrote it about my ongoing struggles with psychiatrists and healthcare in general and it covers the topic from an emotional standpoint. All my life it's been some kind of a diagnosis and then some kind of a pill for it. "The doctor says I'm fine/gives me a note for that/can't make up my mind is that a fact?" Mental health and everything that goes along with it can be totally experimental, and you can fall down a rabbithole of not trusting doctors or prescription pads anymore."
"The video is animated by Robbie Pfeffer (of Phoenix band Playboy Manbaby). We really like his animation style. The video is based on a recurring dream I had where a ceiling fan watches over a family that lives inside a seemingly normal home. The ceiling fan has a special room where he goes to paint the things he sees at night. The father is angry with the ceiling fan for 'spying' on his family and comes at the ceiling fan with a rake. That's the dream. Interpret as you will."
Instagram
Facebook
Twitter
YouTube
comments powered by