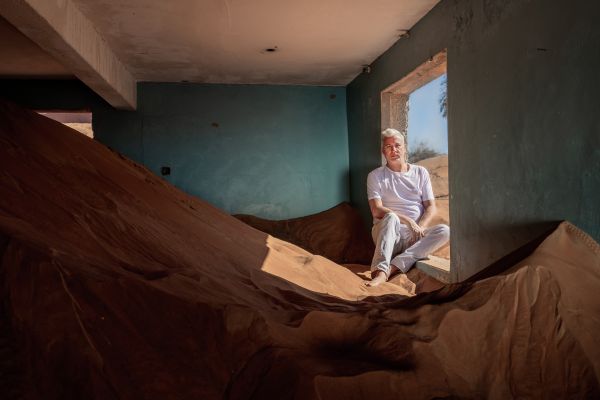 13 April 2020
Terry Borden of Blesson Roy – Photo Credit: Ankhurr Chawaak
"'In Tune With The Moon" intertwines the honest love for another person, with the invisible clarity of the moon's power over the tides and the sun's reflection," says Terry Borden, the man behind music project Blesson Roy, of the first single from his upcoming 5-song Time Is A Crime EP, which comes out May 8th. "This power extends everywhere silently, and connects to our true nature in a way that inspires honest loving actions for another, or a song perhaps."
Life-long "music lover and music doer," Borden is a child of 1970's California whose early love of AM radio and his brother's record collection has led him to numerous career highlights that are still accumulating.
These include kind words from Lou Reed, two appearances on David Letterman, guitar hangs with Radiohead, and 250-plus tour dates a year throughout the early 2000s as a member of slowcore pioneers Idaho and singer-songwriter Pete Yorn's backing band Dirty Bird.
Coming of age in Los Angeles during the early 1990's rise of punk and new wave, Borden's long and varied career as a studio and touring musician culminates with his own dreamy pop project, Blesson Roy.
Owing to Borden's stint living and working in the UK where he was influenced by the burgeoning sonic aesthetics of sub-cultural labels such as 4AD, Creation, Factory, and Rough Trade, the music of Blesson Roy will undoubtedly please fans of all these sounds.
Big Takeover is deeply pleased to host the premiere of the lyric video for the dreamy and earthy Americana-tinged single "In Tune With The Moon."
The track glows vividly with chiming guitar sweep and twangy reverb, suspended to spacey synths, and a measured, but pronounced drum beat. Borden's vocals waver and extend, and reach airy climes as the song progresses, always with heartfelt emotion.
Website
Facebook
Twitter
Instagram
Bandcamp