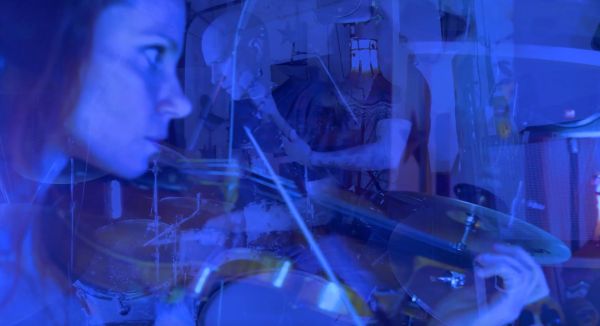 23 March 2021
KnightressM1 – Photo Credit: Evan Lanam
Not long ago, we introduced you to San Francisco Bay Area outfit KnightressM1, who recently released their debut album Dreams and Devastation. Today we present the latest live video from the band, continuing their exploration of the emotional depths of personal transformation and the journey of cosmic awakening.
This song was composed in the studio with singer-songwriter and composer Emily Palen on violin/vocals and Chad Tasky on drums. Larry Boothroyd then joined KnightressM1, bringing his essential and unshakeable bass playing to the power trio.
The striking performance video features the band members performing their hearts out on an at-first calm violin-led track that quickly whips up into a seething storm. Sinuous violin and guitar lines, percolating drums and cymbals, and rhythmic ticks all ebb and swell around Palen's emotive exclamations that sound more alternative rock than symphonic harmony. Exciting, and not what you'd expect from violin-driven music!
""Infinite Blue is essentially a song written about the excruciatingly temporal nature of human existence and its accompanying and inevitable grief. As musicians and creatives in KnightressM1, we strive to give space for the magnitude of emotions that are not easily expressed in words. "Let the water wash over you, what the light can't mend." This lyric in the song is its purpose in essence, to process my own connection to massive love that you experience but cannot hold on to," says Emily Palen.
This is the first of eight songs recorded in a live session at Lucky Recording Company in Burlingame, CA by engineer Travis Kasperbauer and Mikel Ross. Travis also completed the mix for the session. Evan Lanam is the Director of Photography and Executive Video Editor for this video. KnightressM1 // Live Sessions will be released in its entirety throughout the Spring of 2021.
These songs are also a clue into the direction of the band for the upcoming full length LP. KM1 has taken a much heavier direction since Dreams and Devastation both sonically and in lyrical substance, tackling even more head on subjects of abuse, systemic tyranny, global corruption, and the eternal and evolutionary inevitability of human nature.
KnightressM1's sound is the sonic manifestation of Palen's heart – relentless, always reaching for beauty and absolutely driven by intensity. Their music is fascinating in the integration of specific musical frequencies into her compositions. The further her journey with this band, the heavier and heavier the sound gets. The crushing intricate rhythm section blends harmoniously with her driving, searing electricified violin tone as the lead.
The recently released Dreams and Devastation album also involves musicians of the highest caliber, including drummer Rob Ahlers (50FOOTWAVE, KrIstin Hersh) and bassist Uriah Duffy (Whitesnake). This 12-song collection was recorded at Foo Fighters' acclaimed Studio 606 and co-produced by Palen and esteemed producer John "Lou" Lousteau (Foo Fighters, Iggy Pop, Joan Jett).
Fueled by a deep-seated necessity to defy limitation, they harness an intense internal life to fuel the trajectory of the band over the edge of the impossible. Their heavy driving bass and rhythm are rounded out with lots of harmonic layering and beauty.
KnightressM1 is the embodiment of musical manifestations, based on the thematic concept of a female galactic warrior, who comes to Earth to bring justice, hunt corruption and restore truth. Within universal language, M1 is code for unity. This is her identifier. Her frequency. KnightressM1 (KM1) is the vessel through which Palen creates and shares her unique contributions to what is more commonly known here on earth as the music industry.
A violinist from the age of four (her mother was a professional cellist and violin/cello teacher), the classically-trained virtuoso has spent her life mastering violin, piano, singing and composition via rigorous training and practice. As a young adult, she began exploring the concept of transmitting consciousness through improvisation. Palen explored this power through sacred solfeggio in the steadfast belief that these specific audio tones have transformative power.
Why not explore more KnightressM1 at their WEBSITE and BANDCAMP
CREDITS
Emily Palen ~ Songwriting, Lyrics, Violin, Vocals
Chad Tasky ~ Songwriting, Drums
Larry Boothroyd ~ Drums
Travis Kasperbauer ~ Engineer, Mix
Mikel Ross ~ Engineer
Evan Lanam ~ Director of Photography, Executive Video Editor
Enjoy the band's debut album here too:
KnightressM1
Website
Facebook
Instagram
Twitter
YouTube
SoundCloud
YouTube
Spotify
Apple Music