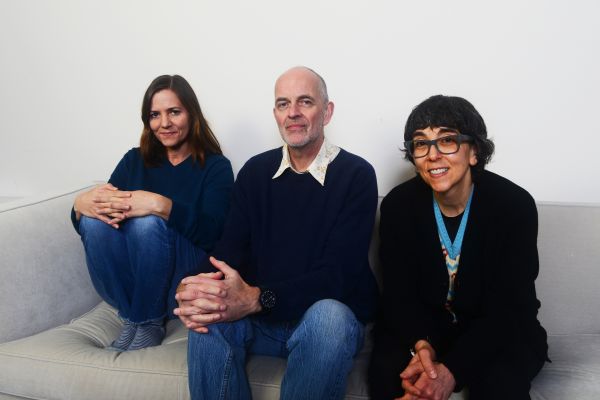 17 January 2020
Sunshine Boys – Photo Credit: Peter Kuehl
Chicago-based indie rock trio Sunshine Boys released their politically-charged single "Infinity Girl" on January 10th and they now follow it up with a vibrant video that was directed by acclaimed filmmaker Jennifer Reeder (whose new film Knives and Skin is getting rave reviews).
Sunshine Boys consists of Freda Love Smith of Blake Babies, Dag Juhlin of Poi Dog Pondering, and Jacqueline Schimmel of Big Hello – quite a deep musical lineage for one band! They're currently on tour with Freda's former Blake Babies band mate Juliana Hatfield.
"Infinity Girl" will appear on Sunshine Boys' second album, Work and Love, which is set for release via Pravda Records on May 1st.
The Big Takeover is pleased to host the premiere of the performance video for "Infinity Girl." In the video clip the band members do their thing that they do so well while bathed in beams of iridescent and colorful spotlights.
Brief images of a young girl in a superhero mask are spliced into the heartfelt performance that features bleak and cutting lyrics like, "You think that anyone cares / about your thoughts and prayers?"
But the young girl is a symbol of hope; of the future; a future that is hers to save if we can survive the current times. As Sunshine Boys so succinctly put it, "We're weighted down by clowns from old days / She built a bonfire of our old ways."
Let this be true and let the new generations rise up and make this world a better one for us all before it's too late…
Juliana Hatfield w/ Sunshine Boys TOUR DATES
January 17th — HiFi, Indianapolis, IN
January 18th — The Basement East, Nashville, TN
January 19 — WorkPlay, Birmingham, AL
Feb. 5 — Turf Club, St. Paul, MN
Feb. 6 — Shank Hall, Milwaukee, WI
Feb. 7 — Blueberry Hill Duck Room, St. Louis, MO
Website
Facebook
Twitter
Spotify